Fairytale Wedding: Why So Many People Get Married at Disney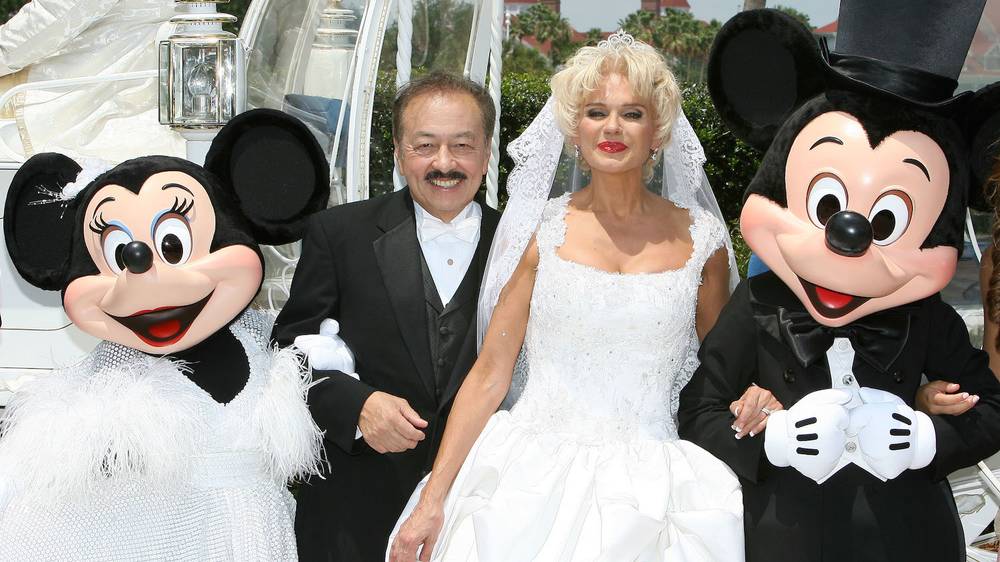 Many brides say they crave a fairytale wedding, but some women are taking their princess fantasy to the extreme: They're getting married at one of Disney's resorts in Florida, California, France,Tokyo, Hong Kong, or Shanghai. In 2013 the trade publication  Hotel F&B reported Disney's Fairy Tale Weddings married 1,500 couples a year. The trend has grown so popular, podcasts, message boards, and wedding planners have popped up to serve the women who call themselves Disney Brides.
Who represents the "typical" Disney bride? Michelle Baumann, a representative of Walt Disney World and Disney Weddings, believes no such thing exists. "What makes Disney's Fairy Tale Weddings so amazing is that we get to plan weddings with couples from all over the globe and through all stages of life," she explains in a phone call. "We host so many couples at each of our four destinations that there is no 'typical' bride or groom." According to Baumann, many brides come to Disney because they have followed Disney weddings on social media before they got engaged. A single Disney weddings Pinterest board can yield over 623,000 followers. (Full disclosure: Disney is an investor in VICE Media.) As Carlye Wisel reported in an extensive Racked feature, getting married at a Disney resort ushers a woman into a sisterhood of fellow former Disney Brides. They regularly communicate on DisBoards, a popular Disney message board.
According to  Hotel F&B, the first Disney wedding took place in 1991. In the late 1980s, the magazine reports that then CEO Michael Eisner had gone to a friend's wedding in Japan. He noticed how many people flew to the wedding and thought people would get marred at his theme parks too. When he returned to California, he began plotting Disney's Fairy Tale Weddings endeavor.
Eisner was more than right, and today a diverse subculture has emerged. Former Disney Bride Carrie Hayward now hosts the unofficial "Disney Weddings Podcast" beloved by fellow Disney wedding veterans. (She also wrote PassPorter's  Disney Weddings and Honeymoons, which is considered the Bible of Disney weddings according to Racked.) The podcast has shown a variety of themes amongst Disney marital ceremonies. Hayward has interviewed everyone from a bride who threw an affair that could have been shown on the Style Me Pretty wedding blog to a woman who hosted a "Beauty and the Beast Meets Haunted Mansion" themed nuptial that also included a visit from the Star Wars villains Boba Fett and Kylo Ren. (Disney purchased Lucasfilm, the company that owns the rights to Star Wars, in 2012.) Hayward believes " [what unites Disney Brides] is definitely a love of Disney magic."
"There's this idea of Disney having world class service," she says. "Whether they want the princesses or not, they know they're going to get a day that's like anything else. It's not gonna be a hotel wedding. It's not gonna be their friend's wedding in a church basement. It's something that you can only get at Disney. And if you're already a Disney fan, then this is just an even more amazing way to celebrate that."
Read more at Broadly.