Brand Collabs Aren't Always Bad for Graffiti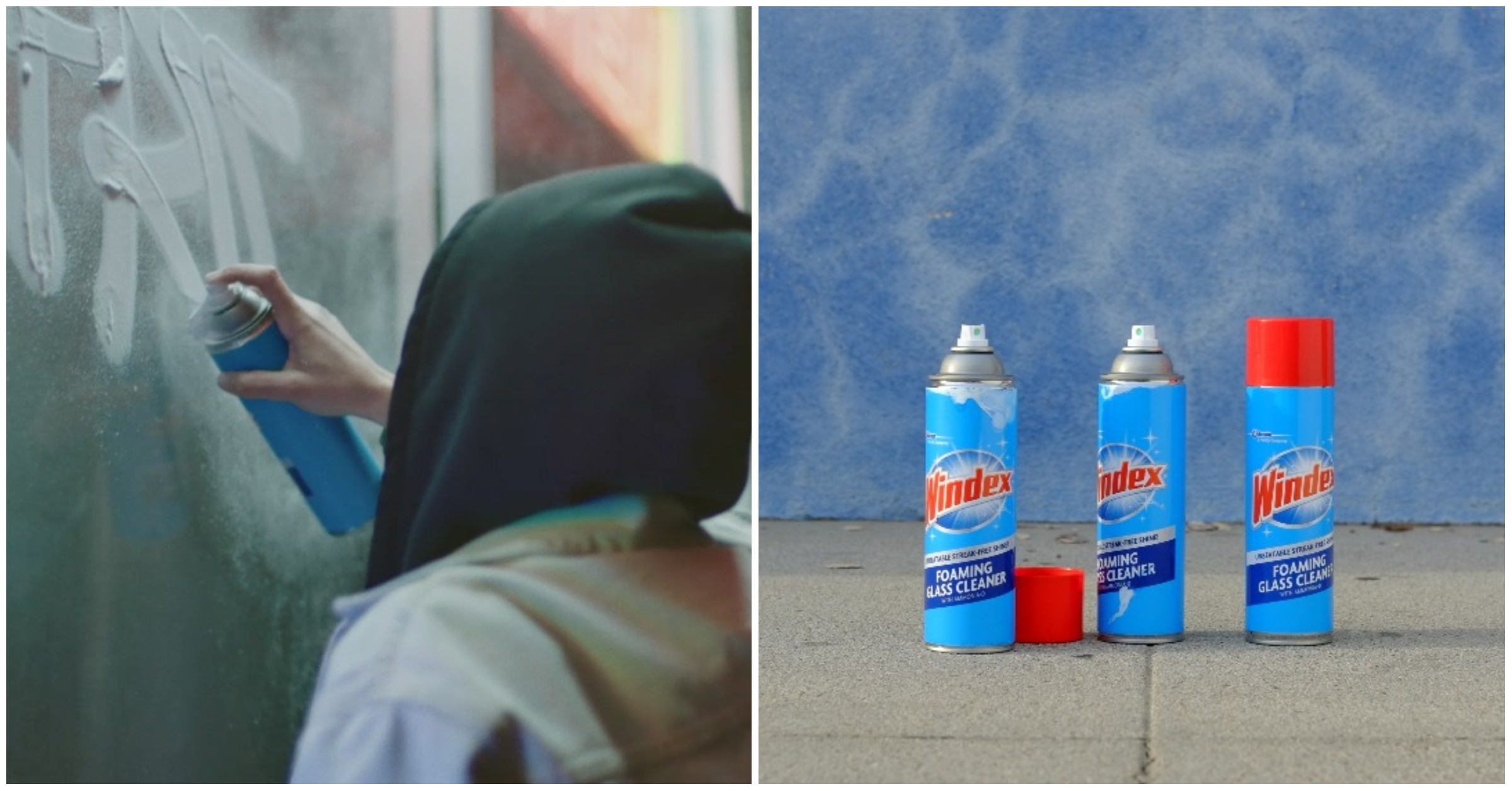 In their latest campaign to promote a new foaming glass cleaner, Windex aligned itself with an unusual partner: graffiti writers. In April, the SC Johnson subsidiary released a suite of ads tagged #SparkleGraffiti, showing people how much fun it is to write on stuff. The campaign included a can-control tutorial, a bombing-style video featuring two unidentified graffiti writers, and a weekend promo on Melrose Avenue in Los Angeles led by the street artist JGoldcrown.
"Glass is your canvas, Windex foam is your brush," pronounces text under one video posted on Windex's YouTube channel. In the prank-style sequences that unfold, two masked writers tag windows using what looks at first like actual spray paint on storefronts around LA. Bystanders are unsettled, until they see the tags are wiped away to reveal a streak-free surface. As it's happening, an unidentified narrator says, "The destructive part of graffiti is really what upsets everyone. So when you take that out, I think it unlocks a lot of potential… Every Saturday, if you pretend to be a graffiti writer while you're cleaning your house, you can see why graffiti is so fun."
Energy BBDO, the creative team behind the ads, gave the campaign an extra level of authenticity by hiring Selina Miles as the ad's director. Miles, who declined to comment for this story, is the seasoned graffiti videographer behind the impressive Graffiti Olympics video shot with Europe's gnarly 1Up Crew.
Predictably, the campaign became fodder for internet ridicule among graffiti writers pissed about Windex "hopping on the graffiti bandwagon." But what some of these critics missed is that this project also supported real artists, who've dedicated their lives to a culture built around a criminal act.
Of course, brands partnering up with graffiti artists is nothing new. Legendary writers like Stash, Futura, and KAWS have all done projects with big brands. Dan Curran, publisher of West Coast graffiti magazine Zipgun, sees this as a positive development. "Be glad there's been a cultural shift in favor of graffiti," he told VICE. "It means more professional creative opportunities are going to be available to writers who really want to make a career out of what they love doing."
From the outside, Windex's quixotic pro-cleaning/pro-graffiti message certainly attempts to have its cake and eat it too. In the campaign, they play up the fact that the stock tip on their new can design produces lines remarkably close to the tip on an actual can of paint, and also that if you drop three dollars on the stuff, you can (legally) turn some heads. For Curran, this is also a win-win.
"I thought the ad was really clever in its execution and delivery," he told VICE. "And if someone gets hyped enough on a brief advertisement to want to take up graffiti, then that might mean they have what it takes to grow into a serious artist. Who knows, maybe the ad inspires the next Keith Haring or KAWS."
But even if Curran is correct about the potential influence of the ad, that's probably not its intent. While Windex declined to comment, the agency behind the campaign told VICE that it's unlikely Windex is trying to endorse actual vandalism. Instead, Vincent Cook, one of the creative directors of Energy BBDO, likened #SparkleGraffiti to an anti-graffiti campaign of sorts. In our conversation, he pointed to the "broken windows" theory, a concept that advocates "zero tolerance" policies for low-level quality-of-life offenses. The idea was that petty crimes like graffiti and litter would set the stage for more serious criminal activity, which in turn helped ignite the cat-and-mouse war between cops and graffiti writers. "Dirty windows, for us, became the same proposition," said Cook. "What if we clean up the city's windows? In a way, [#SparkleGraffiti] becomes a deterrent."
Cook's embrace of "broken windows" makes the Windex/graffiti pairing appear less like the awesome Warhol-Perrier collab and more like the time Susan G. Komen Foundation partnered with KFC. In other words, it speaks to how much of an odd couple this partnership was. Doubly so when you consider its disproportionate affects on people of color.
Trav, a graffiti writer and active member of The Seventh Letter, the first group of writers to brand themselves as a collective in 1999, has seen a number of brands and graffiti artists collaborate and clash over the years. TSL boasts members like Retna and Hense who have partnered with Louis Vuitton and Apple. It also has members like Rime and Revok who have hammered out precedent-setting copyright infringement suits against Moschino and H&M for unauthorized commercial use of their work.
With projects like this Windex campaign, Trav told VICE, "If brands are going to try to align themselves with graffiti, it doesn't necessarily play out because graffiti in itself is a crime." On the other hand, as weird as these things can get, there can still be a silver lining. "If these two people in this commercial have successfully gotten away with getting a check without revealing who they are," he told me, "then I can't hate on that."
Sign up for our newsletter to get the best of VICE delivered to your inbox daily.
Follow Kelsey Lannin on Twitter.
This article originally appeared on VICE US.