What Your Take on Ariana Grande and Pete Davidson Says About You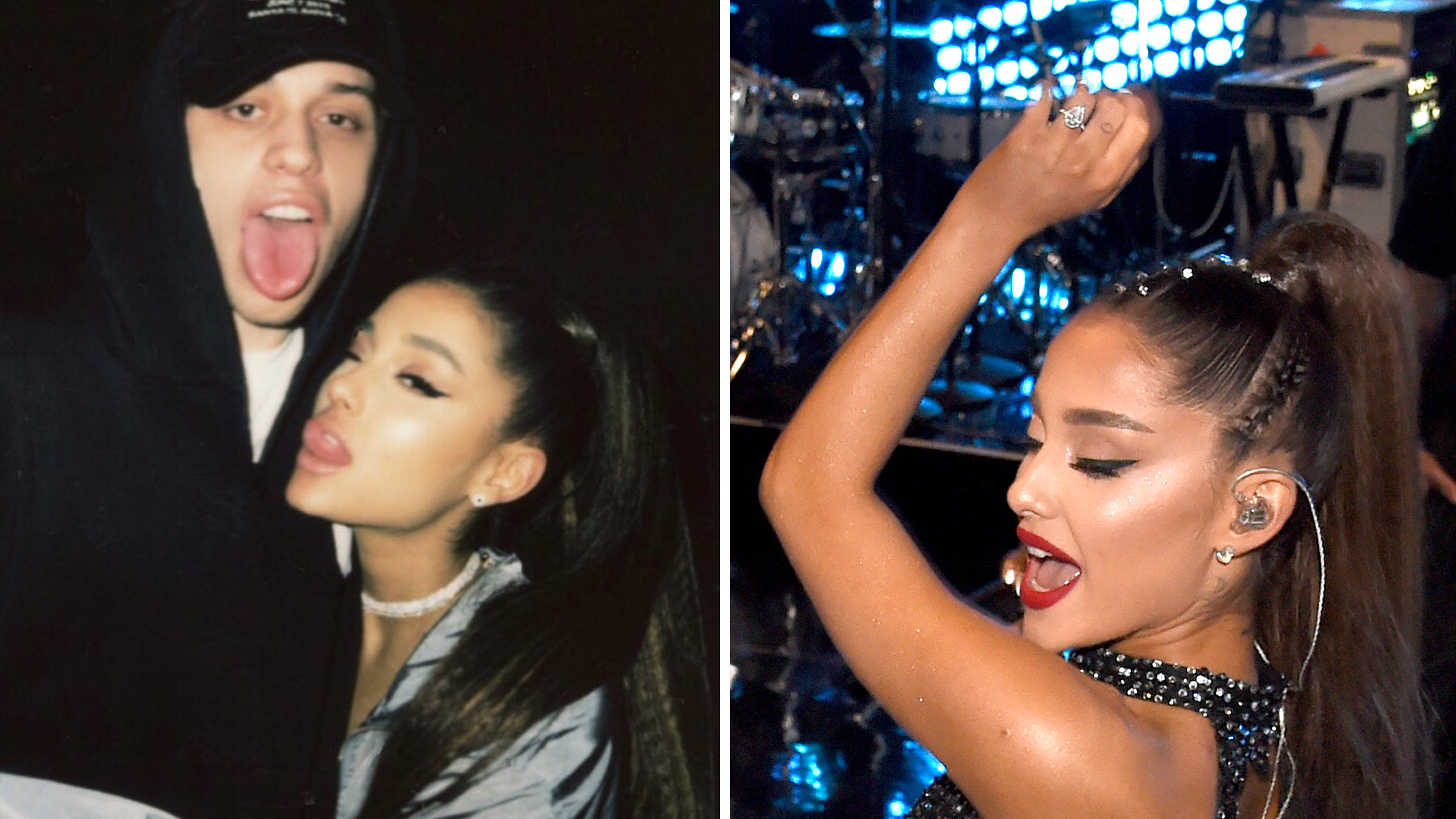 In the spring of 2018, there has been no shortage of things to fret about—an outbreak of celebrity suicides, Donald Trump's meetings with Kim Kardashian and Kim Jong-un, the EPA chief wasting thousands of taxpayer dollars on pens and fancy lotion, a sitcom star's racist tweets, the civil war in Yemen growing increasingly bloody, and the Justice Department's decision to stop granting asylum to victims of domestic abuse and gang violence. And yet the thing we can't stop talking about is the unlikely union of a petite pop powerhouse and a young Staten Island-born Saturday Night Live castmember.
Yes, I'm talking about Gravidson, or Grandson, or whatever you call super-couple Pete Davidson and Ariana Grande, who are engaged and going Disneyland-ing after just a few weeks of dating.
"There are just not enough good celeb stories these days," my coworker Dory lamented. "Kim K's a political operative now and the royal wedding is over." And yet Grandson has rocketed to the top of the gossip-mag charts. "Three people I used to care nothing about have taken over my damn life," wrote Kathryn Lindsay in an article on Refinery29 headlined, "I'm A Pete Davidson and Ariana Grande Truther."
The main draw here, at least for "truthers," is the murky timeline of their accelerated romance: In mid-May, Davidson, 24, and Grande, also 24, began publicly flirting on Instagram. On May 30, Davidson posted a picture of him and Grande donning Harry Potter garb—they're both big fans of the franchise—captioned, "The chamber of secrets has been opened…" Grande coquettishly replied, "u tryna slytherin[?]"
Their relationship blossomed out of the darkness of break-ups from their significant others. Grande called it quits on her longtime relationship with the rapper Mac Miller on May 10, and Davidson announced that his two-year relationship with Cazzie David, daughter of Seinfeld creator Larry David, was over on May 16. On June 2, the SNL star got two new tattoos for Ariana, and covered up his tattoo of Cazzie's face.
On June 11, ostensibly less than a month into their relationship, it was reported that the couple was engaged. The ring, which reportedly cost almost $100,000, was the subject of even more speculation. "What's perhaps more surprising than the exorbitant price, though, is where this ring fits in the 24-day timeline of Davidson and Grande's relationship," wrote Amanda Arnold for the Cut. "It took [jeweler] Mr. Flawless nearly two weeks to finish this ring, and Davidson picked up his purchase last month."
As Gravidson began posting more and more Instagram content putting their affection for one another on full display, David posted an Instagram of herself on vacation, looking chill, her long brown locks blowing in the wind, captioned, "Been in Africa, what'd I miss??"
Needless to say, this is some primo gossip—endearing puppy love, vague overtones of betrayal, and lingering mystery, all played out publicly on social media and in the tabloids. In one sense it's a distraction from the "important" news in the world. But it's also a way to examine our own feelings and assumptions about relationships.
If you think there were some secret goings-on going on here, you have a fundamentally skeptical worldview. If you can't help but get wrapped up in their public displays of puppy love, charmed by their corny social media comments, you're an old romantic who believes in the power of love at first sight.
"The tattoos, the ring, the social media fawning: this feels less like the behavior of a brand new couple and more like the behavior of a couple who has finally been allowed to brag about their relationship," Lindsay speculated in her just-asking-questions Refinery29 post.
---
---
For others, the lesson here is obvious: "Pete Davidson wasting 2 years of Cazzie David's life telling her he'd love her forever and using her for support while he got clean even getting a tattoo for her then dumping her on her bday and proposing to Ariana Grande 3 weeks later is exhibit 987 in the case of MEN ARE TRASH," one #TeamCazzie Twitter user opined.
For many women, David is an easy person to identify with—the everywoman who was scorned in a very public way, and whose ex immediately rushed into commitment with an international pop superstar. (The Cut published the stories of seven women who got "Pete-and-Ariana-ed" by their past lovers.) Mac Miller, on the other hand, is a less sympathetic figure, especially after Grande called their relationship "toxic" and berated an internet hater for "shaming/blaming women for a man's inability to keep his shit together."
The most optimistic takeaway, for those who believe that you often find your soulmate at unexpected moments, is that Grandson's love is purely a good thing. "If you think Ariana Grande did Mac Miller dirty by getting engaged to Pete Davidson so quickly, you're stupid," one of Ariana's fan wrote on Twitter. "Fuck a toxic relationship. Also Pete Davidson is a legit angel."
"[Shoutout] to Pete Davidson's therapist," one writer commented, a reference Davidson's struggle with borderline personality disorder, something he discusses openly in his comedy. (Davidson posted a lengthy iPhone note in his Instagram story, in response to the internet haters, writing, "Normally I wouldn't comment on something like cause like fuck you but I been hearing a lot of 'people with [borderline personality disorder] can't be in relationships' talk… Just because someone has a mental illness does not mean they can't be happy and in a relationship.")
What makes the Gravidson romance so compelling is the mystery it's shrouded in—decoding the couple's Instagram comments, theorizing on Cazzie's current emotional state and her romantic future. "Don't sleep on John Mayer following Cazzie David on Instagram… Don't sleep on Cazzie David liking John Mayer's last Instagram," one blogger pointed out. "Following this story closely," New Yorker staff writer Naomi Fry replied.
To which I can only say: same. As an objective journalist, I'm rooting for everyone. I hope Grande and Davidson spend many happy years together, and I hope David moves with John Mayer, or another famous hottie of her choosing.
Whether it's a fairytale or a mystery, Gravidson is a Rorschach test for how you think about your status. Are you an Ariana or a Cazzie? Or are you none of the above and simply tired of reading about global disaster, aching for a little escapism, living vicariously through the courtship of the young, rich, and famous?
Sign up for our newsletter to get the best of VICE delivered to your inbox daily.
Follow Eve Peyser on Twitter and Instagram.
This article originally appeared on VICE US.