'RuPaul's Drag Race' Recap: The Pros and Cons of the Final Queens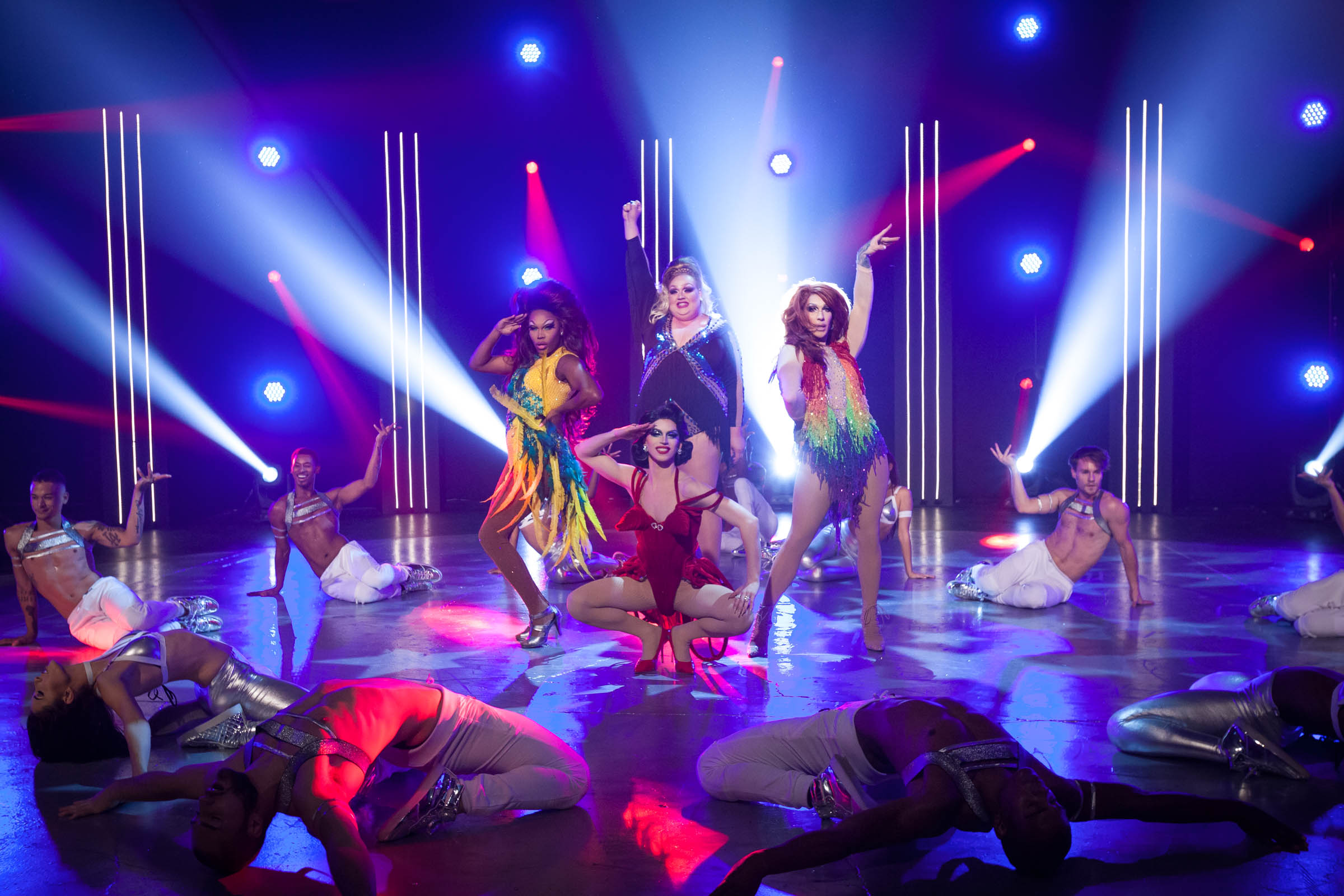 I wish that there was a symbol or a special font that could express sarcasm in written words on the internet, because I would deploy it now when I talk about how shocked, how utterly floored, I was that RuPaul didn't send any of the final four queens home. This is exactly the same trick she pulled last year, where there was a normal episode of the show, teasing us with a final three, only to have it turned around at the end.
The difference is last year it was a true gag. No one at home or on that stage knew what to expect and it was exhilarating. This year there was about as much surprise as seeing Eureka break out into the splits, Aquaria do a turn, or any queen at any gay bar in the United States saying "Miss Vanjie" at only the slightest provocation. That is to say that there is no surprise at all and it seems like this is more a format change than a one-time experiment.
I think this finale format is actually for the best because making them all lip sync against each other not only keeps it fresh and surprising, it gives the contestants a very clear idea of what they need to do to go from the final four to the winner. Sasha Velour sure figured it out, and I think that her earth-shattering "So Emotional" alone is what got her that $100,00 prize. What I object to is the reality television production of it all that demands that we be surprised. I am not, and that's fine.
Minus the twist, this episode in the series has followed the same format for several seasons now. The queens all have to record a verse for RuPaul's latest single, dance through an elaborate production number, and then stun the judges on the runway in a formal gown. It's a good episode, but if no one is going home anymore, it's just filler. A way for VH1 to get us to tune in another week.
I feel like Drag Race is trying to have its cake and eat it too. Either provide us with a real surprise and a reason to tune in or just lean into the fact that this episode is nothing more than a celebration of those that made it this far. This episode was such a love fest, Ross Matthews should've passed around some poppers.
The other patented element of this episode is building each one of the remaining queens up so much that the audience will believe that any one of them could actually walk home with the crown. It's the kind of complete lack of criticism that's usually reserved for Marvel movies and Beyoncé singles. I find it a little annoying, so why don't we look at both the pros and the cons of each of the queens since the judges failed to do so.
Aquaria, I think, is the favorite. RuPaul says she is one of the top five queens of the entire show in terms of runway looks, which puts her in a pantheon that includes Raja, Detox, and Violet Chachki. Both of her costumes this episode were major, especially the Breathless Mahoney meets dominatrix gown that was covered in stars and finished with some amazing face jewelry. Her performance costume was also Madonna inspired, with a maroon cone bra that was so minimally retro that it was futuristic all over again.
The problem with Aquaria is that she has no idea when she's being bad. She actually cried during rehearsal thinking about how major her performance was going to be. I think it's good to be confident, but she could fall, she could break a hip, one of the dancers could knock into her. A million things could happen that would make celebrating herself before actually delivering a bit of a problem.
Asia O'Hara has been my favorite since the Tweety Bird dress and while not as fashion forward as Aquaria, she can turn a major lewk when the occasion calls for it. Her dandelion headdress was one of the all time best runway masterpieces ever. Her Egyptian goddess final gown was also incredible. She's also so sweet, lovely, and inspiring I could just watch her lift up her fellow drag queen for days on end.
However, that does not a good one-woman show make. While Asia showed up for Todrick Hall's song and choreography, she's not known for her performance skills, at least on the show. She's a pageant queen through and through, with her polished looks and glinting veneers. While that's great, it means she's not always going to win over the crowd when she has to do more.
Eureka was a favorite the moment she walked back into that workroom and she really has had a roller coaster of a season. From her initial failures to her feud with The Vixen, it was hard for Eureka to shine. But she managed., With an enormous personality and talent to match, she can't help it. I don't love her long lower eyelashes, but she has a signature style that she sticks to, whether it's a jeweled leotard or her dress emblazoned with Eureka right there on it. She's as campy as she wants to be and it's always fun.
Unless it's too cheesy. Eureka is not everyone's cup of Jack Daniels and what makes her so great—being loud, boisterous, and campy can turn off as many people as it turns on. Also The Vixen wasn't the only one at fault during their feud and that's sure to turn off some fans as well. Eureka is obviously very talented, but I have a feeling that she's like CrossFit, either you're endlessly devoted or never want to hear about it ever again.
And then there's Kameron Michaels who, let's be honest, should not be in the final four. She is a great performer, a lip sync assassin, and can turn a stunning look, but it's always expected. She looked flawless in her purple dress with the purple hair, but a stoned, nude illusion dress on a drag queen is like red sauce on pasta at an Italian restaurant. When it's done well it's great, but it's something you can find absolutely anywhere.
Speaking of which, that reminds me of the rainbow fringe dress she wore to perform. Note to drag queens everywhere: never wear a rainbow dress. There is no way to avoid looking tacky, no matter how much of a Pride connotation one is hoping to convey. Also, it is more basic than going to Sweetgreen after a SoulCycle class. I don't care that Kameron is a little bit mute and not that exciting as a person, what bores me is that she never delivers something I haven't seen before.
This is our final four, like it or not, and going into the finale, I think there are some really good choices out there. But I'm going to be hashtagging TeamAsia for the next two weeks.
Follow Brian Moylan on Twitter.
Sign up for our newsletter to get the best of VICE delivered to your inbox daily.
This article originally appeared on VICE US.