The World Cup Where Ireland Beat Italy, FIFA and the Sun
For a tournament that was contested almost a quarter of a century ago, it's remarkable how many moments from USA '94 loiter so vividly in the memory. As the last World Cup before the modern football Enlightenment – before the colossal databases of the FIFA and Championship Manager gaming franchises, Sky's exhaustive coverage and the internet conspired to reveal every hidden recess and emergent player of the global game – it has never since been possible to go into a tournament summer with so much of your excitement and anticipation bound up in the unknown.
The fact that each match seemed to take place two metres from the face of the sun also added to the visual spectacle, swamping pre-HD TV sets in aureoles of pre-emptive nostalgia. Due to the transatlantic kick-off times, you'd tune in to the cathode glow late at night and find Kennet Anderson and Martin Dahlin thrilling in Swedish yellow; Gheorghe Hagi and Ilie Dumitrescu resplendent in the primary colours of Romania; Hristo Stoichkov fizzing about in red, white and green, like an angry bottle of Bulgarian mouthwash; Dennis Bergkamp in brilliant Dutch orange; and the auxiliary threat of Bebeto and Romario fixed atop an immovable, functional Brazilian side like a cannon hoisted onto an out-of-season seaside town's public toilet. And there, in the middle of it all – for a while, at least – were a ragtag cast of sunburnt journeymen wearing Irish emerald green.
They say that alcohol brings your true colours to the surface. I'd argue the same can be said of ultraviolet light. Ireland seemed to spend the entirety of the 1994 World Cup engaged in a battle not only against the world's finest footballers and hapless FIFA officials, but also the sun itself, its rays evaporating Steve Staunton in his white proto-Vetements trucker cap, persuading the gurning pub bully of a midfielder Andy Townsend to put highlights in his hair, with manager Jack Charlton wishing he could just blast it clean out of the sky like that stag back in '83, when men were men and animals were animals, until they suddenly weren't because someone (probably Jack Charlton) had discharged a righteous hail of shotgun pellets into their shoulder blades. One man who was dealt an especially memorable mugging off by the sun was striker John Aldridge.
"I think there was a bit of argy bargy," remembers Terry Phelan, who excelled from his station at left-back for Ireland that summer, and who – like 12 other members of the 22-man squad – was actually born in England, but qualified to play for the Republic through the blood of his family members. "Jack and the lads on the bench wanted to get Aldo on the field, and there was a bit of a hoo-ha when the officials put the wrong board up."
Argy bargy. Hoo-ha. Brouhaha. Hullabaloo. With all respect to Phelan, these kinds of phrases seem insufficient. With his team 2-0 down and in need of a goal, Charlton decided to make a double substitution, bringing on Aldridge and the young full-back Jason McAteer for the exhausted and dehydrated Tommy Coyne and Staunton. While McAteer was able to sprint freely onto the pitch, there was a mix-up with the documentation needed by FIFA's touchline officials, and Aldridge was forced to wait, forlorn, desperate, explosive and Scouse, on the touchline. Powered by a potent combination of glaring 54-degree Floridian heat and petty bureaucracy, Aldridge reacted with an immortal volley of abuse – possibly the finest ever heard on live sports television – aimed at FIFA official Mustafa Fahmy.
"Fuck off, you. Eh! Eh!" begins Aldridge. "You twat! Ya dickhead!" He pauses briefly here to point aggressively at the temples of his own forehead, eyeballs bulging, fair skin visibly crisping up in the sun, rage parboiling it from within. "You know, as well… yeah you [indecipherable, has to be restrained by coaching staff].
"You fucking, fucking cheat."
"Fuck off!"
Fahmy, incidentally, went on to be something of a top boy at FIFA, rising to a position of power in the organisation's African division, charged even with the task of putting on the 2010 World Cup Final. I reached out to him for comment on the Aldridge incident; I am yet to hear back.
In fairness, it wouldn't do to not mention Charlton's part in all this – after Aldridge had finally made it onto the field, the manager squared up to Fahmy too, though tragically the TV cameras didn't pick up what was said between the two men.
Charlton really took the fight to FIFA all the way through his team's participation in the tournament, to the point where they quickly seemed totally tired of him. Ireland's whole game plan was based around the relentless pressing energy that, at that time, characterised the English and Scottish football leagues from which most of the players were drawn, and the climate was an obvious barrier to that approach, leading Charlton to spend the majority of the tournament standing at the side of the pitch hurling small plastic goldfish bags full of water at his melting players. When he wasn't doing that, he was publicly slagging off FIFA for refusing to give his players more regular drink breaks.
"He does not have a problem with water, he has a problem with officials at most stadiums, and that is not FIFA's fault," sighed the disgraced ex-general secretary and awful, game-ruining kleptocrat Sepp Blatter at the time. "There is no problem and he should stop complaining." Guido Tognini, head of the organisation's media affairs team, seemed even wearier: "It's just his way of motivating his players. He seems to be making a lot of complaints," he said. "No other coach or manager has seen fit to make the type of criticism Mr Charlton aims at FIFA every single day of the competition."
Speaking down the line from India's Malabar Coast, where he is working as an academy director connected to the Indian Super League's Kerala Blasters, Phelan seems more phlegmatic about the situation. "In training, one of the lads – I think it was Steve Staunton again – said, 'Jack, any chance you can throw a few plastic bags of Guinness onto the field instead next time?' No, seriously though, you know what officials are like. I never took a lot of notice of it, to be honest – I didn't want it to over-escalate and spoil the World Cup, or the moments we shared together."
Those moments – and the emotions they provoked in the Irish team and fans alike – were by no means confined to the realms of outrage and fury. In many ways, they had a dream of a tournament. Even Aldridge, once he'd finally managed to scream himself onto the pitch against Mexico, pulled a goal back for Ireland with a soaring header. They did themselves proud in getting out of their initial group and into the round of 16, where they were beaten by an imperious Dutch side. Really, though, it was all about their opening game: an utterly heroic and unexpected 1-0 victory over Italy, secured by an 11th minute shinner from the Glasgow-born Aston Villa midfielder Ray Houghton that arced over the head of goalkeeper Gianluca Pagliuca in a way that made the ball seem momentarily divorced from the natural laws of gravity, an intruder from a different realm.
Phelan was the first to reach Houghton as he lay prone and delirious on the turf of New York's Giants Stadium. The pictures of their celebrations are some of the most iconic in Irish football.
"I'm getting goose pimples just thinking about it," he explains. "When I reached Ray, we couldn't even say a word to each other. If you look at the photo [of that moment], it's as though I've seen a ghost. 'Is this really happening?' I remember thinking, 'We've just scored against Italy, in the World Cup finals, at the Giants Stadium, in front of 100,000 people…'"
The official attendance that day actually came in at 75,338, but you can forgive Phelan if his brain has rewired the memory in his head, amplifying it into something utterly halcyon. The Italian and Irish communities of New York are sizeable and storied, and have played a huge part in shaping its cultural and social history. This game was expected to draw them together to go toe-to-toe, but the vast majority of the crowd were decked out in that Irish emerald green. Houghton's goal and the jubilation that followed were enough to shock Phelan into an out-of-body experience, something usually the preserve of class-A drugs and alien abductions.
"People always ask about my face in that photo. My academy boys see it and they always say the same thing: 'Sir, why were you not smiling?' I say, 'Lads, it's because I was in a dream…' If you asked a psychologist to analyse it, they'd probably tell you there's no real emotion on my face. It was as though, one minute I was in bed, and the next I fell out of the bed and woke up out on the pitch. Was I really there? What a proud moment. Great. Fantastic."
The moment more than made up for the picture Phelan didn't make it into earlier that same day: "Before kick-off, I'd gone to change my boots at the last minute – I ended up missing the ceremonial team photo! If you look back at it now, there's only ten men in it. But that's me: Last-minute Tez, they used to call me."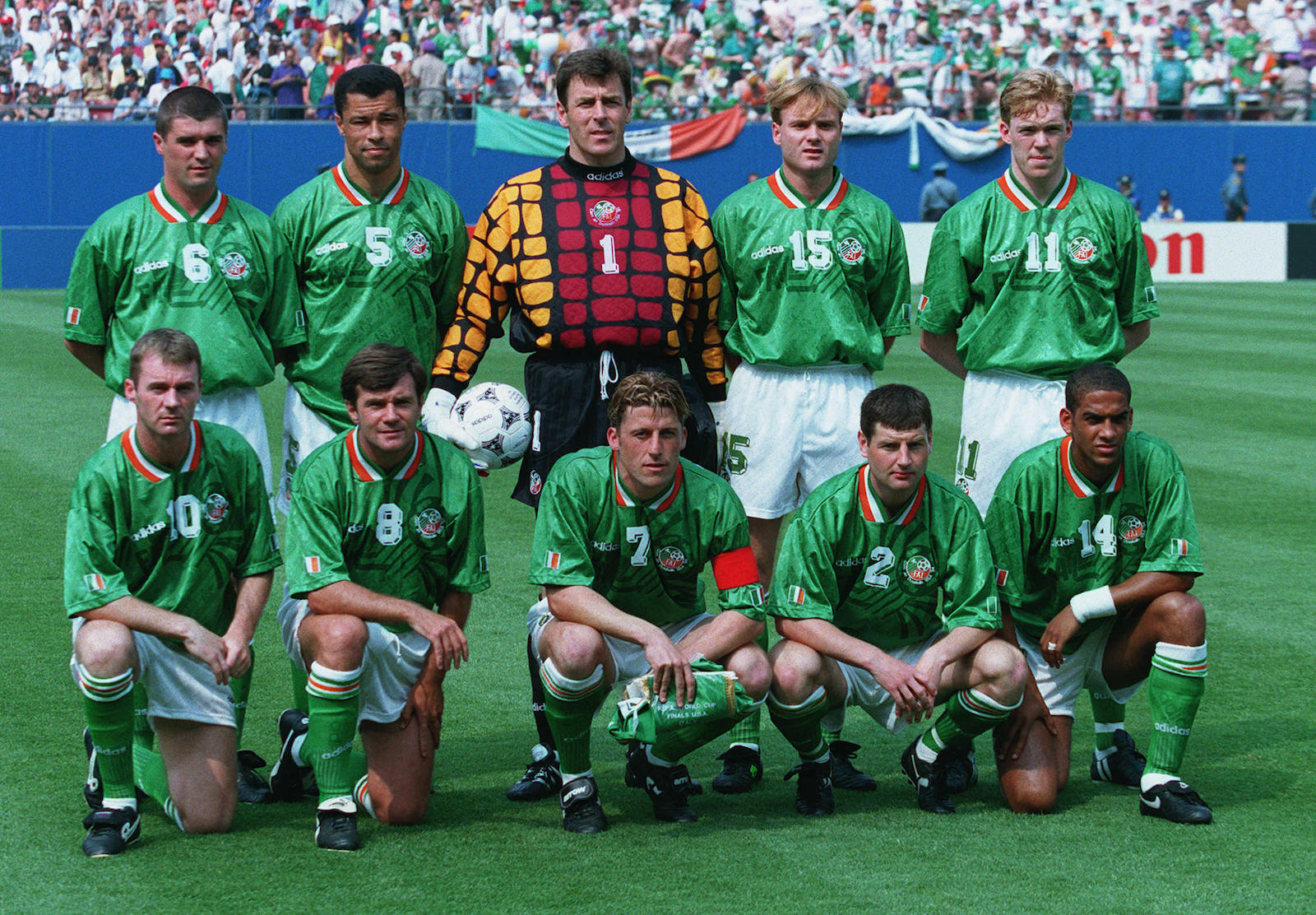 Another man for whom the emotions of that day had life-changing consequences was sat on a sofa back in Dublin. "The game was played on a Saturday afternoon in New York, which made it an evening kick-off of about 9PM back home," explains Eric Lalor, who works now as a comedian, actor and writer, but back then drove a forklift truck round a warehouse for a living. "I was 22 years old and on my way to a big house party – friends, girlfriends, a lot of drink, barbecue, all that kind of stuff. I remember we were told the attendance at the Giants Stadium would be split 50:50, but when the teams walked out it was about 80:20 in favour of Ireland. When the anthems were sung the hairs on the back of your neck stood on end. Then the goal just sort of… happened. There was a half-second of stunned silence before everyone erupted into manic screaming.
"I was sat next to my girlfriend on the sofa. With about an hour to go, I looked at her and asked, 'Will you marry me?' She said yes, and we sat there with this secret for about 15 minutes before we gave in and told the rest of our friends, which of course added more fuel to the celebrations. I think, at that moment, the whole country was on a wave of euphoria – anyone would've said yes to me! But luckily she was the first to kiss me, and the rest is history."
Eric's story shows the power of the World Cup to serve as a kind of signpost for memory and occasion in a way that few other public spectacles can. He and his wife are still married. They have four kids, though none of them are called Ray. "We have twins who are 16 in September, though, and I'm a big Manchester United fan – I managed to call one of them Alex, she allowed me that."
Phelan could have played for Sir Alex Ferguson at one point. In 1992, when he was leaving Wimbledon, he had offers from some of the biggest sides in Europe – Manchester United, Barcelona and Ajax – as well as one from Tottenham. But he chose Manchester City, the team he supported as a boy. As a player who'd come through the Republic's youth system – and a man who says he has "always felt Irish" – he epitomises the mixture of camaraderie, pride and spirit that brought that Ireland team together to perform so memorably at USA '94. They were eight men born in Ireland, ten in England and two in Scotland – with a Geordie head coach, to boot – but never felt anything less than a unified team. There were no internal rifts, and the notion that those not born in the Republic might ever be referred to as "Plastic Paddies" – as some elements of the media had taken to branding them – was totally anathema to the esprit de corps that served them so well.
In fact, the way Phelan talks about it, it sounds less like a highly pressurised three weeks of elite sport, and more like a massive lads holiday that somehow managed to define sport for a generation. When he talks about it, he sounds like he's glowing: "What I remember most is just pure joy. For a tiny country like Ireland to get to the last 16 teams in the world was absolutely fantastic. I think we celebrated the whole time we were at the World Cup. It's the Irish! We went out as a team, all the players and the staff included. There were no cameras clicking away back then, so we used to go where the Irish fans were and drink with them. We never had any hassle."
Maybe off the pitch they didn't. But on it, the sunburnt underdogs of Ireland caused plenty.
This article originally appeared on VICE UK.