This Crypto Bro Left Twitter After His 'Successful People' Tweet Was Memed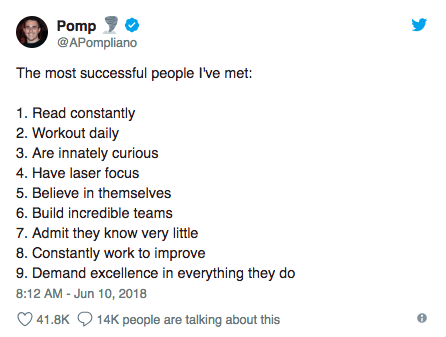 Twitter drove a hapless crypto bro off the social network this weekend after his trite tweet about the characteristics of "the most successful people" he knows went viral. Anthony Pompliano, a self-described "crypto capitalist hell-bent on tokenizing the world," announced he was taking a break from Twitter after a facing a wave of tweets parodying his incredibly earnest post:
Many of the best tweets responding to Pompliano point out that the best way to become successful, particularly in America, remains being born into a rich family. With college increasingly out of reach for many low-income, working-class, and middle-class Americans and many millennials struggling to get out from under crushing debt, few users on Twitter were around for Pompliano's message that all it takes to get ahead is hard work and self confidence.
Many tweets point out that America's definition of "success" is broken and that glorifying wealth, celebrity, and workaholism is actually pretty stupid.
Not all of the responses, however, have been serious, with the vast majority of recent tweets trading on well-established memes and pop-cultural references.
All in all, this episode should serve as an important reminder that the only people who enjoy your inspirational social media posts are, for the most part, idiots.
Sign up for our newsletter to get the best of VICE delivered to your inbox daily.
Follow Beckett Mufson on Twitter and Instagram.
This article originally appeared on VICE US.