A Fundraiser to Help Migrant Children Raised $4 Million in Three Days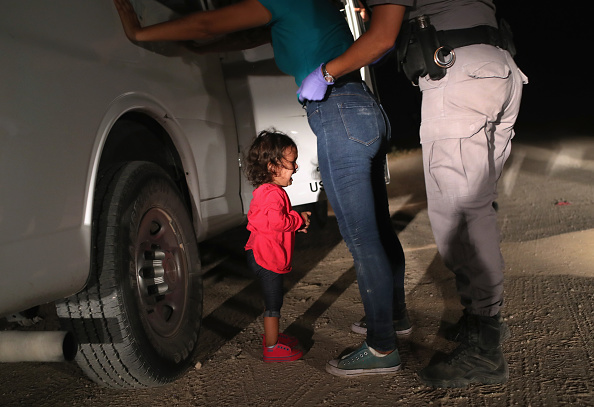 Hundreds of immigrant children have been separated from their families at the border since April, thanks to the Trump administration's new "zero tolerance" policy. Shocked by the horrifying images and heartbreaking audio of what these unaccompanied minors are currently going through, one couple started a fundraiser to try to help them out—and wound up raising millions of dollars in less than a week.
According to the Mercury News, more than 115,000 people have donated to Charlotte and Dave Willner's Facebook fundraiser, "Reunite an Immigrant Parent with Their Child," since it launched on Saturday. At one point, Dave Willner claimed donations were pouring in at rate of almost $4,000 a minute. The couple has now raised more than $4.8 million for the Refugee and Immigrant Center for Education and Legal Services (RAICES), the largest immigration nonprofit in Texas, which provides free and low-cost legal aid to immigrant children, families, and refugees in the state.
"These aren't kids we don't have to care about. They're like our kids," Charlotte Willner told the Mercury News. "When we look at the faces of these children, we can't help but see our own children's faces."
According to the fundraiser's description, the $5 million goal will go toward paying bonds to get immigrant parents out of detention and reunited with their kids, like the six-year-old Salvadorian girl from ProPublica's audio, who was separated from her family and remains unable to speak to her detained mother. The Willners are also hoping to "ensure legal representation for EVERY child in Texas' immigration courts."
Jenny Hixon, RAICES's director of education and outreach, told the Mercury News it's had to bring on volunteers to deal with the millions its received over the past few days.
"I have no better way to describe it than just absolutely stunned and incredibly grateful, because the funds that have been raised will enable us to do so much work," Hixon said.
RAICES is just one of several nonprofits offering pro bono and low-cost legal help to immigrant children and their families at the border. As Newsweek notes, the ACLU, the South Texas Pro Bono Asylum Representation Project, the Texas Civil Rights Project, and the Border Angels are also looking for donations and volunteers. And the organizations are going to need all the help they can get: According to the Washington Examiner, the Trump administration could be holding as many as 30,000 immigrant children by August.
Sign up for our newsletter to get the best of VICE delivered to your inbox daily.
Follow Drew Schwartz on Twitter.
This article originally appeared on VICE US.