How to Boycott the United States of America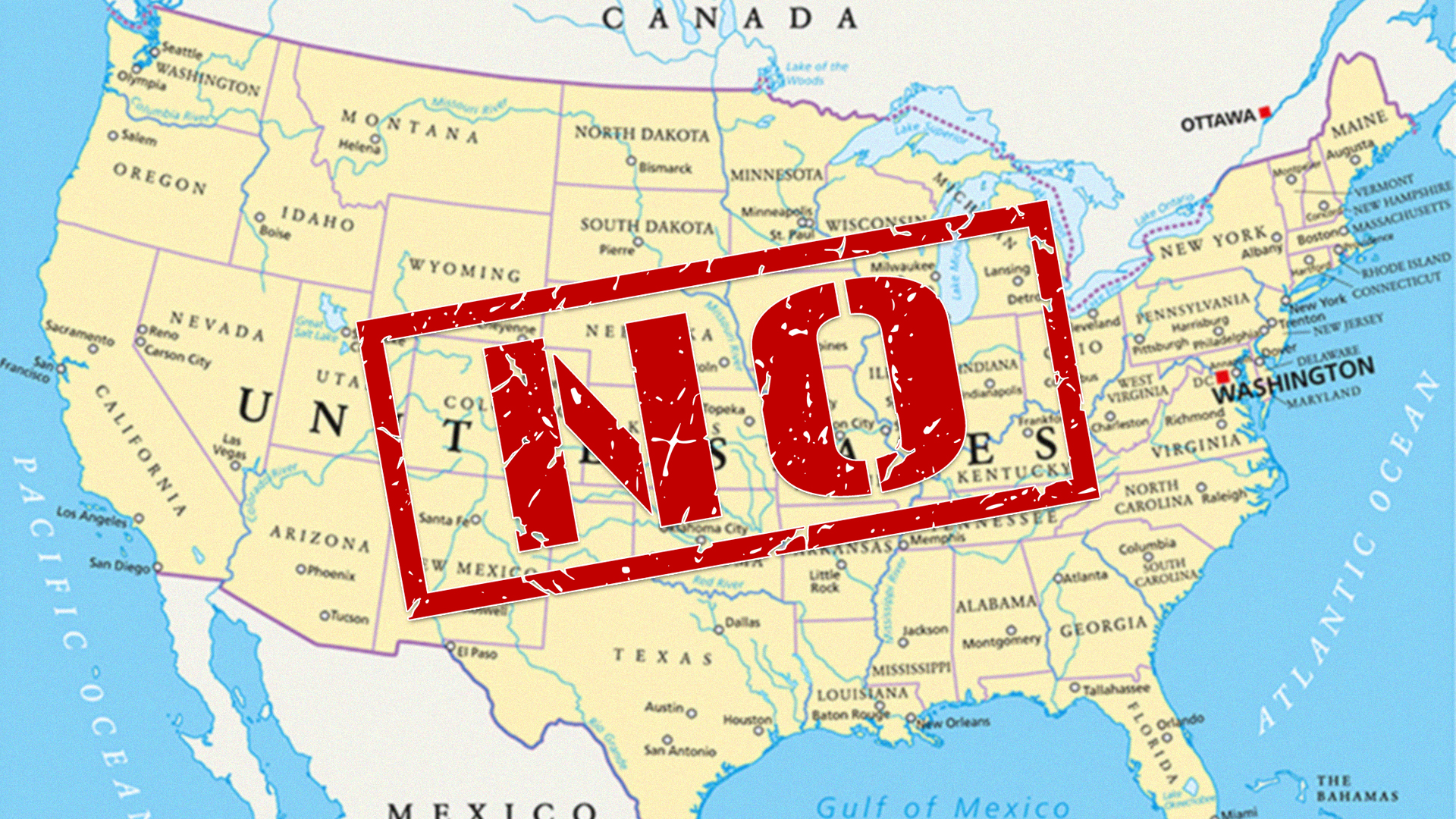 Between the trade war started by US President Donald Trump and his administration's policy to separate and detain children apart from their parents, Canadians have a lot to be angry with the United States about.
But how does one turn that anger into something beyond a few tweets? One possible answer: Canadians can boycott the United States of America.
It won't be easy. Canadians consume American culture, purchase American products, and take American vacations. But do Canadians not have any pride in themselves?
With his latest statement, Trump basically dared Canadians to boycott.
"They buy shoes and they wear 'em. They scuff 'em up to make 'em sound old, or look old," he said. Then, he claims, Canadians smuggle said shoes back over the border into Canada. (As pointed out by fact-checker extraordinaire Daniel Dale, even if this nonsense was true, it would in no way affect America's bottom line.)
Given the exchange rate has been abysmal for Canadians for years at this point, shopping in the States doesn't exactly carry the same luster it once did. And although we can nearly all agree the US makes some amazing products and has some cool places to visit, maybe we can also agree that our dollars should stay in Canada for a few months.
You may already think there is no ethical consumption under capitalism. But anyway, here are some ideas about how to make your consumption more Canadian.
Don't vacation in the US.
Since much of Canada's population is situated near the border, a summery road trip to an American city such as Seattle, Detroit, Pittsburgh, or New York City is a widespread temptation. Resist. Your own country is beautiful, albeit a bit too spread out. There's wine countries in Ontario and British Columbia; the unbeatable scenery of Banff, Alberta; late last call and cheap Airbnbs in Montreal; Toronto's incredible food scene; and the underappreciated seaside serenity of the Atlantic provinces. And if you're lucky enough to be able to afford a plane ticket out of this country, you could just go elsewhere in the world. We hear Europe is nice. (Hint: There are a multitude of international round trips that cost the same or less than flying between Vancouver and Toronto.)
Listen to Canadian music.
Become a CanCon fan child and try listening to only Canadian artists. This really isn't that hard. For starters: Drake, The Weeknd, Grimes, Kaytranada, Carly Rae Jepsen, Tory Lanez, Arcade Fire, Neil Young (hi dad!), Celine Dion, PartyNextDoor, Alessia Cara. Here's a list of Canadian indie rock songs to get you started, as well as a guide to Toronto's burgeoning rap scene.
Drink whisky, not whiskey.
Why were you drinking JD anyway when an array of delicious brown liquors are Canadian? Beginner level: Alberta Premium. Mid level: J.P. Wiser's Deluxe, Canadian Club (Don Draper would approve, but Mad Men is American so let's not go there), Crown Royal. God tier: Well, I hear Scotland has good whisky.
Get a BlackBerry again.
Just kidding. This is absurd.
Follow the antics of Doug Ford instead of Donald Trump.
The strange saga of former Toronto mayor Rob Ford was enough to launch Canadian politics into the stratosphere of American attention. Though that era may have ended with his death in 2016, his brother Doug is now the Premier-designate of Ontario. Fortunately and unfortunately, that means we'll be hearing about the Ford family more often once again.
Boycott the movie theatre.
Unless you live in Quebec, there's no domestic options during the summer, so I guess you have to stay home or find your air conditioning elsewhere.
Buy Canadian maple syrup.
FYI, Canadians, Americans make syrup too. So ensure the delicious sugary sauce you are buying is authentically Canadian before purchasing it to pour over freshly made waffles. If you're not already doing this, you're probably committing some sort of treason.
Date people who live in Canada.
That green card was way more tempting a couple years ago. Now, there's nothing worse than a relationship that means you have to constantly visit and spend money in a country you increasingly despise. If you're already in too deep with an American, maybe you can convince them to move to Canada?
Pledge to watch a single CFL game.
Look, I know this is an incredible ask but while we wait for the mostly American-owned NHL to come back, this is what passes for Canadian sport. You can also check out little league baseball or the local soccer pitch, I guess.
Instead of illegally downloading old Game of Thrones episodes, try Olympus .
Sure, Game of Thrones may be an award-winning show that will make you feel left out of the loop and subject to spoilers if you haven't watched every episode immediately after it came out. But, it's pretty hard to watch it legally in Canada anyway. For your consideration: There's a similar Canadian-British fantasy series called Olympus than ran for one season (13 episodes) in 2015 and had poor reviews from critics.
Adhere to Canadian spellings of words.
Start adding a U to all your words, ya houser.
Go to Canadian coffee shops instead of American-owned ones.
Canada is home to an iconic, quintessential coffee chain that has shops available from coast-to-coast and is a national source of pride. I mean, who doesn't love Second Cup?
Do your retail shopping in Canada, not in the US.
If you must shop at stores located in the US, please resist buying shoes and proving Trump right. Aldo and Fluevog are both Canadian shoe brands you may consider before scuffing up those new Nikes you bought at an American outlet mall and sneaking them across the border.
Only watch the CBC instead of American television.
Just kidding, part deux. This is absurd.