LOOK: Bayan Muna, Colmenares stage protest in front of SSS office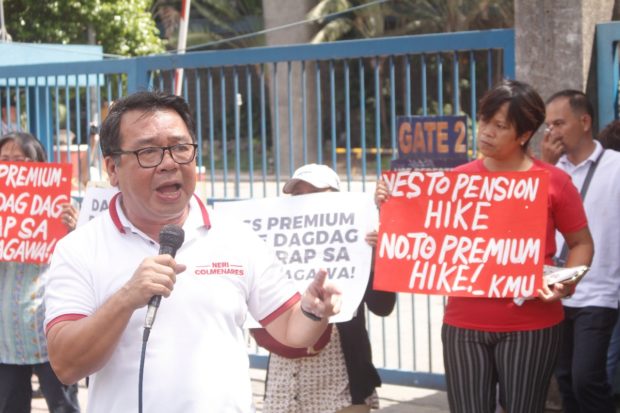 Credit to Author: jespinosa| Date: Thu, 21 Feb 2019 06:14:09 +0000
MANILA, Philippines — Members of Bayan Muna led by its chair and senatorial candidate Neri Colmenares picketed outside the Social Security System (SSS) main office along East Avenue in Quezon City on Thursday.
During the program, Colmenares called on SSS management including its President and CEO Emmanuel Dooc to fix their collection operations before imposing additional contribution premiums on members.
According to the recently-signed SSS Rationalization law, the current 11 percent contribution would go up by 12 percent this year, until it reaches the 15 percent mark by 2025.
On Wednesday, the senatorial aspirant claimed that SSS does not have any moral authority to increase contributions as Commission on Audit (COA) reports show that P437 billion worth of contributions from delinquent members are still uncollected.
Aside from Bayan Muna, some members of urban poor group Kadamay were also present, including chairperson Gloria Arellano.  Both leaders urged SSS members and beneficiaries to join simultaneous rallies on March 13 to denounce the law and the impending increase in premiums. /je
READ: Colmenares to disgruntled SSS members: Take your concerns to the streets