Chad Focus Wanted to Be a Rap Mogul. How Much Fraud Would It Take?
Credit to Author: Will Caiger-Smith| Date: Fri, 20 Dec 2019 17:36:41 +0000
For someone potentially facing more than 20 years in prison, Chad Arrington sounded remarkably upbeat when I finally spoke to him earlier this week.
Calling from a local gym in Baltimore, where he's been working since a judge modified the conditions of his house arrest earlier this year, he thanked me for my interest in his story but declined to comment on his ongoing court case. "I'm just happy to be alive, man," he said, in the same energetic, earnest tone as every one of the videos I've pored over since he was indicted by a grand jury earlier this year.
According to the indictment, Arrington made more than $4 million of unauthorized purchases on his company credit card as he attempted to launch a rap career alongside his day job as a search engine optimization specialist. The title track of his debut album—promoted with a giant billboard in Times Square—was called "Get To The Money."
Federal prosecutors say Arrington used the card to fund the production of music under his alter ego "Chad Focus," and to buy Spotify streams, YouTube views, Instagram followers and outdoor advertising to boost his profile. He's also accused of using it to bankroll a lavish lifestyle, blowing money on jewelry, hotels, luxury cars, and tickets to his own concerts.
On top of that, he allegedly funneled purchases to co-conspirators in return for cash kickbacks, and embezzled thousands of dollars to finance his own startups, including a bike-, scooter-, and hoverboard-sharing business. To conceal this illicit spending from his employer, he falsified billing statements and forged his supervisor's signature, prosecutors say.
The would-be rap star and business mogul faces charges of wire fraud, conspiracy and aggravated identity theft; for the wire fraud alone, the maximum sentence is 20 years. Despite all the money he supposedly threw at them, his music career and business ventures never really took off, and as he awaits trial he's banned from making music about the case—the one thing that finally made him famous.

The indictment reads like a parody of the contemporary grifter canon. The sheer scale of Arrington's alleged spending evokes the genre's epics: the Instagram-fueled folly of Fyre Festival, or the high-society confidence games of Anna Delvey. But the everyday reality of his schemes calls to mind more provincial tales, like Caroline Calloway's over-promising on social media, or Brooklyn rap crew Pop Out Boyz, whose members were caught up in a credit card fraud bust back in 2016. In the story of Chad Focus, these two ends of the scamming spectrum meet in a kind of singularity: one man's quixotic quest for success in a booming but still deeply troubled post-crisis economy.
Arrington was duly ridiculed when the indictment emerged in June. Social media bloomed with facepalm emojis as people discovered his content for the first time, while on YouTube, Revolt TV's popular Breakfast Club show labeled him 'Donkey of the Day.' "If you spent $4 million on your music career and I haven't heard of you, you must be trash," laughed one presenter. Even if you felt bad for him, it was hard to take issue with the mockery, if only because Arrington all but delivered the punchlines himself. Just one example: a bizarre skit halfway through the 11-minute music video for "Get To The Money," which ends with him lecturing a cash-strapped friend to "live within your means."
But dig through this online library of entrepreneurial evangelism, and beneath all the bluster you'll find kernels of truth about our shiny new digital economy: About the opportunities it promises, the contradictions it fosters, and the inequality it perpetuates. In an otherwise cringeworthy MTV Cribs-style video titled "Who Is Chad Focus Arrington?" one line strikes a poignant note: "I've been on the internet my entire life," Arrington says. "I've seen so many people use the internet to make money and to create a fortune, and I was like, 'Why not me?'"
Chad Arrington is 31 years old, and lives in Randallstown, Maryland. He received a bachelor's degree in 2009 from McDaniel College in Carroll County, where he used to play basketball: He's listed on the roster for McDaniel's "Green Terror" team and his Instagram account features a picture of a framed collection of articles about its successes. Police records show he's been cited for offenses ranging from traffic infractions to assault, as well as "phone misuse" and the distribution of intimate images, but he's never been convicted. According to tax records, in 2017 and 2018 the IRS filed liens against him for overdue state and federal taxes totaling $100,000.
The indictment doesn't name the company that provided the corporate card, but at the time of the alleged fraud Arrington was working as a search engine optimization specialist at a company called Money Map Press. Part of sprawling Baltimore-headquartered publishing network Agora Inc—which declined to comment for this article—Money Map Press hawks stock tips and other money-making opportunities to retail investors via online newsletters. It's got a similar tone to many of Agora's other outlets, which Mother Jones once described as "skirt[ing] the line between spammy and scammy"; for example, an email newsletter in which one Agora outlet claimed the Obama administration was blocking a miracle cure that "vaporized" cancer.
It's unclear exactly why or when Arrington decided to pursue music as a side-hustle to this day job, but prosecutors claim the fraudulent purchases began in 2015. Not that his extracurricular activities were limited to music: The first post on his main Instagram account—which is from 2017, and was ostensibly taken in Medellin, Colombia, of all places—is captioned "Focus Music is more than music… it's my whole way of life!" A year later, in a video interview with local Maryland radio host Jay Hill, Arrington explains that his ultimate goal is to create a business empire like one of hip-hop's best-known moguls. "I have a background in marketing, you know, music, communications, sports, and we're basically trying to take that all under one house," he says. "So you're looking at a bunch of young guys from Baltimore trying to replicate what you would see Jay Z do."
Arrington was certainly not short of ideas about how to diversify his business portfolio. As well as listing him as CEO of Focus Music Entertainment, "owner" of the hashtag #focusmadeithappen, and "Billboard artist" @chadfocus, his main Instagram account links to a clothing line named @focuswearofficial, and an account called @smartboardking which appears to be connected to the personal mobility startup mentioned in the indictment. Next to an illustration of Arrington on a hoverboard—his eyes glowing red like some kind of cyborg—the account displays the slogan: "Smartboard the personal transportation device of the future." His main account features pictures of bicycles and scooters too: some of them are regular-looking bikes with Focus branding, while others are electric and occasionally straddled by a female model in photos labeled "The Curves Club."
The core product, though, was the music. Chad Focus released a litany of singles during his short-lived career: alongside "Get To The Money" his discography includes "Get To The Bag," as well as "Cents," "What You Need," and "Drinks On Me." Some of his tracks, like "Curtain Call," barely achieved 500 listens on SoundCloud, while others did serious numbers—"Get To The Money" has 25 million listens, and the official video has 4.4 million views on YouTube. Commercially speaking, his most successful release was "Dance With Me," an auto-tune ballad that at one point graced Billboard's Dance Club chart. Arrington purportedly enlisted T-Pain—whose representatives didn't respond to a request for comment—to appear on remix of the track, which has 4.5 million listens on SoundCloud as of this month.
Confusingly, though, the official video for "Dance With Me" has about 15,000 views on YouTube—far less than you'd expect for a Billboard-charting single—and barely 140 likes. According to industry experts I spoke with, inconsistencies like this are an instant red flag to anyone familiar with music promotion.
Chad Focus seemed to be a rising star. But how much of it was real?
Record labels are placing more and more importance on social media when evaluating potential signings. Danny Barros, founder of artist management company Hitskope, told me most artists that approach him are focused squarely on boosting these metrics: "These days record labels care more about your social media numbers than the music itself." If that sounds like an exaggeration, consider the example of Danielle Bregoli, otherwise known as the "Cash Me Outside" girl. Her social media following skyrocketed after she appeared on Dr. Phil and challenged members of the audience to a fight; she then got signed to Atlantic Records, and is now recording under the name Bhad Babie. "Gucci Flip Flops", her collaboration with Lil Yachty, has 130 million views on YouTube.
Stories like this make an impression on young musicians, said Damien Ritter of online forum the Music Entrepreneur's Club. "These days it's get attention first, by any means necessary, and then create a song," he explained. "People want clout, and they're willing to go to great lengths to accomplish that." As for how far, take the example of City Girls. In the space of barely a year they went from being complete unknowns—one of whom had never rapped before—to guesting on Drake's 2018 smash hit "In My Feelings." JT, one half of the duo, was recently released from prison after pleading guilty to credit card fraud last summer. She said she scammed to supplement her income while working day jobs at Whole Foods and Burger King; meanwhile, she portrayed a far glitzier lifestyle on Instagram as she and her bandmate Yung Miami pursued a music career. As The Cut put it, JT "suffered the consequences of chasing clout more directly than most."
Like JT, Arrington's social media accounts display pictures of flashy clothes and fancy jewelry, some of it allegedly bought with stolen money; according to the indictment, he spent $11,500 on a single "bear pendant." But that's pocket change compared to how much he's accused of spending to buy followers and fans directly. Prosecutors say that between 2016 and 2018, he spent more than $300,000 through the freelancing website Fiverr, on consultants offering services like "promote your hip hop song on fm station and expose to 1000"; he also spent $70,000 with another company on a promotion strategy that included buying thousands of YouTube views and Instagram followers in bulk.
Prosecutors say he also paid $20,000 to a company called Streamify to artificially boost his play count on Spotify. Arrington's company Focus Music Entertainment then filed a lawsuit against Streamify for failing to deliver the "authentic" streams it had promised; Focus eventually dropped the complaint after Streamify's lawyers filed a motion to move the case to arbitration. To complement his online campaign, Arrington used outdoor advertising: In a giant Times Square billboard promoting "Get To The Money," he referred to himself as "the #1 artist in the world," while another billboard displayed he and his alter-ego facing each other, separated by the words "Fame vs Power." The indictment also says he bought hundreds of tickets to events where he performed; he spent $125,000 on Ticketmaster for an event called "One Heartless Summer Harder Than Ever Tour."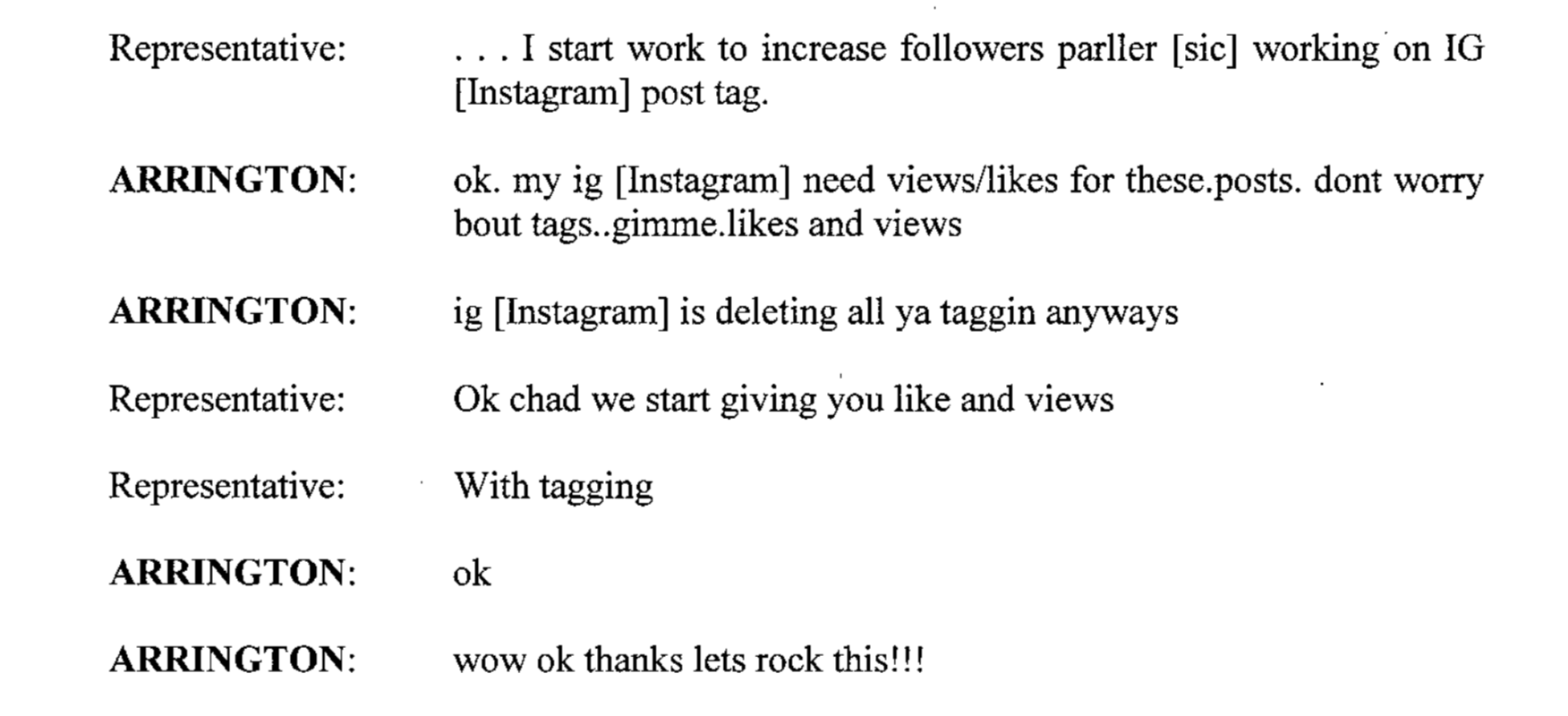 Faking your own popularity rarely works in the music industry, at least not for long. Last year, a musician calling himself Jered Threatin hired three band members to join him on tour in the U.K.; his legions of followers on Instagram, viewers on YouTube and listeners on Spotify persuaded the new recruits that he was the real deal. But when they walked on stage for their first gig in London, only three guests had turned up. It was the same at their next concert. It quickly became apparent that only a fraction of Threatin's online fanbase were real people; a disaster for the venues that had booked his band. As Ritter put it: "You can't monetize a fake fan base. But there is a lot of ignorance in the industry, and people get fooled by numbers sometimes."
Whether Threatin anticipated this outcome or not is open to debate: months after the failed tour, he surfaced on Twitter with a cryptic post implying that the tour was an intentional effort to create "Fake News" and rope readers into "the illusion." Arrington's bold lawsuit against Streamify, by contrast, suggests he genuinely believed purchasing streams and followers would help him build a real fanbase. Barros said he regularly encounters artists that have followed this path and ended up similarly disappointed. He told me of one company that approached him offering to get his artists onto a "major" Spotify playlists, one of which had around 19,000 followers; upon closer inspection, nearly all these followers came from Secaucus, New Jersey, which has a population of roughly 20,000. "Either nearly everyone in that town was listening to this one playlist, or there was another explanation," he said. "The listeners were all bots."
On one level, it's understandable that wannabe influencers and musicians are tempted to take these kinds of shortcuts. Over the past decade or so, influencer advertising has gone from cottage industry to multibillion-dollar market—it was worth $4.6 billion in 2018, and is projected to hit $6.5 billion by the turn of the decade—while in the music industry, being featured on a streaming platform's curated playlist can catapult artists into the spotlight literally overnight. But when you play through the potential outcomes, faking it is obviously unsustainable in the long term: Social media fraudsters eventually get found out when they fail to deliver the genuine human engagement they promised.
Tools are now emerging to measure the authenticity of social media accounts. After developer Andrew Hogue launched a free follower verification app called IG Audit last February, he was contacted by several record labels who have used the app to weed out artists with artificially inflated follower counts. Barros said Hitskope was using it to evaluate all potential signings, until Facebook ordered Hogue to take the site offline earlier this year. Other sites still provide these kinds of services, but generally charge a fee; a report generated by one such firm, HypeAuditor, graded the audience quality of Chad Focus's main Instagram account as "poor," at 15 out of 100, and estimated that less than 40 percent of his followers were authentic.
Hogue, whose company Authentique is now working on a platform for artists to proactively certify their online fanbase with record labels, believes this is the future. "There is not enough knowledge yet that [social-media] fraud is a thing," he said. "But once that switches, the burden of proof should be on the artist."
Fans are demanding greater authenticity, too. Listeners have more music to choose from—and more platforms on which to dissect it—than ever before. Social media also gives access to artists' personal lives, and on these platforms, they're not only expected to be entertaining; they have to be genuine at the same time. Brooklyn rapper Tekashi 6ix9ine touched upon this dynamic in his explosive testimony against the Nine Trey Gangsta Bloods earlier this year, claiming he only got involved with the gang to bolster the provocative image he presented in his music and videos. As Briana Younger wrote in The New Yorker: "His efforts to skirt one hip-hop faux-pas—being a poser—crash-landed him into another: snitching." 6ix9ine was sentenced to two years in prison this week; his outspoken testimony opened the possibility of him being eventually placed into witness protection, which, ironically, would mean abandoning the outlandish persona he worked so hard to cultivate.
His story shares an important parallel with the allegations against Chad Focus, said Andrea Dennis, a lawyer who recently co-authored a book about the use of rap lyrics as evidence in court. "The similarity is this notion of creating a persona—a brand if you will—that is inauthentic, but that you have to claim is authentic and real," she told me. 6ix9ine's brand revolved around gang life, while Chad Focus' was all about money and success, but ultimately both men were allegedly engaged in real-life criminality in the service of an exaggerated rap alter-ego. There's one crucial difference, though: While 6ix9ine boasted openly about his criminal connections to bolster his brand, Chad Focus rapped endlessly about his newfound wealth but said nothing about its allegedly fraudulent origins.
Perhaps this is why his music sometimes feels like it's missing something. Hyperbole is a foundational trope of hip-hop, but ultimately its poetic value lies in communicating truth. The genre began as an expression of the very real stresses of modern life in the inner city and has since evolved to tackle topics all the way from police brutality to the loneliness of online dating. This commentary can be explicit or metaphorical, exaggerated or understated, but the general idea is that it should somehow reflect reality. The Pop Out Boyz track "For A Scammer" wasn't exactly a smash hit, but it's engaging for exactly this reason: it's full of hilariously specific references to credit card fraud and its monetary (and sexual) rewards. By contrast, Chad Focus's "Get To The Money" is full of clichés about hustling, but reveals very little about the everyday reality of that hustle.
The song is so utterly generic that in light of Arrington's alleged crimes, it's tempting to see it as satire, an homage to the empty promises of a society that idolizes the pursuit of material wealth even as those in power hoard it all for themselves. In that sense, Chad Arrington's one true artistic achievement may have occurred precisely when the feds alleged that the entire Chad Focus project was a fraud. He claimed to have used the internet to achieve success and avoid falling into a life of crime, but in reality—prosecutors say—he was using the internet merely to pretend he was successful, and funding this pretence through crime. If that's the truth, he may have highlighted a bigger and far more troubling scam: The myth that the internet has somehow levelled the deeply uneven playing field of American capitalism.
Was Chad Focus really a fraudster? Or was he actually the mark all along?
///
Arrington claimed to have kickstarted his business career by signing up to a program called My Online Business Education, or MOBE for short. In a video posted on YouTube in 2017, he explains that MOBE is an online course for entrepreneurs that offers a 21-step program on how to make money through online marketing. It's the work-at-home dream: a steady, ample income from the comfort of your living room. "This is the full breakdown on how you start an online business, or actual business, anywhere in the world," he says. He goes on to say he hit his "first five figures" within just 90 days, before introducing a white BMW—apparently gifted to him by a MOBE program—as "my Shifu…that's my Kung Fu Panda."
A year after that video was posted, the Federal Trade Commission accused MOBE's owners of defrauding customers like Arrington of more than $125 million. People who paid the initial $49 fee to sign up were "bombarded" with sales pitches for membership packages costing thousands of dollars in order to unlock the promised "business opportunity," the agency said; in the end, this opportunity consisted of selling memberships to the very same training program they had just been through. Few people recouped their costs, and some lost up to $20,000. Meanwhile, the FTC claimed, MOBE's creator, an Australian named Matthew Lloyd McPhee, bought an island in Fiji and a resort in Costa Rica. MOBE recently reached a settlement with the FTC and the lawyer assigned as the case's receiver, which is awaiting approval by a judge.
This kind of business model, known as multi-level marketing, is generally seen as legitimate if the company generates the majority of its revenue from selling products. But if it makes money just by endlessly recruiting new salespeople, it runs the risk of being designated as a pyramid scheme. MOBE's lawyer told me the company doesn't accept the FTC's allegations that it was a fraud. Legal or illegal, the pitch of all multi-level marketing companies is centered around promise and accessibility; this is one of the reasons why the FTC sometimes calls these kinds of schemes "last dollar" scams. As researcher Christine Richard says in Betting on Zero, a documentary about hedge fund manager Bill Ackman's short-selling campaign against giant multi-level marketer Herbalife, multi-level marketing firms "tap into beliefs we have in America that you really can accomplish whatever you want to, the rags-to-riches story that's there for everybody."
Today's scams might be more high-tech than those of centuries past, but the strategy is the same: identify peoples' insecurities, and unlock their desires. Scammers are adept at harnessing new trends—as Maria Konnikova writes in her book The Confidence Game, they are experts in "exploiting the sense of unease we feel when it appears that the world as we know it is about to change." In the early 1800s, improbably-named con man Gregor MacGregor leveraged colonialist greed to sell plots of farmland in a fictional Central American nation; a century later, Charles Ponzi rode the globalization wave to popularize the investment scam that bears his name. In this early stretch of the 2000s, our obsession with new technology has dovetailed with loose monetary policy in the wake of the financial crisis, leading yield-starved investors to plow money into everything from ridiculous products like Juicero to the likes of Theranos, which the SEC last year accused of "massive fraud."
In this new tech-fueled gilded era, with wealth disparity reaching levels not seen since the Jazz Age, that unease Konnikova talks about is our everyday. Perhaps this is why it feels like we've entered what Jia Tolentino dubbed "grifter season": the warped lens of social media has magnified our materialistic aspirations and celebrity obsessions into epic scams like Fyre Festival, while innovations like Bitcoin, which capitalized on distrust in governmental and financial institutions, have turned out to be just as corruptible as the systems they claimed to subvert. Political campaigns have weaponized the data we so willingly handed over to tech barons, and after selling us the miracle of convenience, companies like Uber and Amazon are using their popularity to fundamentally reshape markets for their own benefit. Even the billionaires are telling us that capitalism is broken, yet however many hedge-fund managers warn of an impending revolution, meaningful change always seems just out of reach.
Chad Arrington was promoting a business—MOBE—that appeared to be legitimate but was later accused of defrauding its customers; at the same time, he was allegedly running a fraud against his own employer, which itself had a reputation for bending the truth in the name of customer acquisition. It seems a stretch to suggest that these actions were a conscious commentary on the contradictions of our modern economy, but they're certainly a fitting reflection of them.

When Arrington asked "why not me?", he hit a nerve. In recent years, particularly as public markets have deflated the valuations of tech companies that spent years being pumped full of private capital, it's become increasingly clear that modern capitalism is not always the meritocracy it's supposed to be. While the millennial proletariat was wrestling with imposter syndrome and being priced out of the housing market, the rich and famous were paying fixers to get their kids into Ivy League schools, and tech bros were leading investors on billion-dollar vision-quests. Who cares if your business model is flawed, or your behavior unethical? All you need to succeed is unshakeable self-belief and the right connections. "You might imagine that he [Arrington] has seen the 'fake it till you make it' mantra and has crossed a line, or even a little bit of the 'we break some rules and then we ask for forgiveness' mentality" used by some big tech companies, said Andrew Jennings, a lecturer in corporate law at Stanford University.
It's especially poetic that Arrington chose hip-hop, an art form at once anti-establishment and deeply capitalistic, as the vehicle for his alleged fraud. The genre has a rich narrative of artists funding their art by illegal means, from stories of NWA flipping drug profits into music production to Pusha T bragging about pushing cocaine; now, emerging sub-genres like scam rap are chronicling digital crimes, such as cryptocurrency scams and dark-web identity theft. Meanwhile, hip-hop as an industry continues to develop its own exclusionary economics, luring aspiring rappers with its well-worn rags-to-riches narrative only for agents to charge them to play gigs and established MCs to rip them off for paid guest verses. The story of Chad Focus might seem like an outlandish parody, but it also highlights some home truths.
On a broader scale, his misadventures reflect the growing perception that capitalism's social contract is broken, particularly in terms of rewards and consequences. Arrington allegedly stole money from his employer, and is now facing years in prison; Adam Neumann presided over WeWork as its valuation ballooned, and when it suddenly deflated—an event sparked partly by his own self-dealing and impacting not just his investors but many of his own employees—he still walked away with a deal for $1.7 billion. Economic inequity doesn't justify the kind of behavior Arrington is accused of, but at the same time, how can you expect people to behave ethically when there seem to be such strong incentives not to? It's almost like Arrington's downfall was nothing more than, in startup parlance, a failure to scale; as if he just didn't steal quite enough money for success to become its own justification.
As this decade of disillusion draws to a close, the artist formerly known as Chad Focus is under home detention at his mother's house and banned from social media while he awaits trial. Is he aware that he has authored such a perfect meta-drama for our times? For the moment, it's impossible to say: he steadfastly refused to comment on anything to do with the case, and his attorneys didn't respond to multiple emails or phone calls. For the full story, it seems we'll have to wait until the trial, which the Maryland District Court recently agreed to postpone until next June.
When requesting this extension, Arrington's lawyers cited the sheer volume of evidence unearthed during discovery; among the items they listed was data from social media and email accounts equivalent to 5,000 standard boxes of legal paperwork. Like future historians sifting through the wreckage of the last ten years, they may be fitting the pieces together for a long time yet.
This article originally appeared on VICE US.