After Massive Fire Destroys Nova Scotia Lobster Facility, First Nation Chief Calls on Trudeau to 'Protect Everyone'
Credit to Author: Lindsay Jones| Date: Sat, 17 Oct 2020 16:12:39 GMT
West Pubnico, N.S. – Chief Mike Sack of Sipekne'katik First Nation implored Prime Minister Justin Trudeau to send more police to southwest Nova Scotia amid rising tensions after a lobster pound owned by a Mi'kmaw ally was burned to the ground overnight Saturday. One man, who police say is a person of interest in the suspicious fire, is in hospital with life-threatening injuries.
 "I do believe with the proper police presence however this could've been avoided," Chief Sack said in a statement. "I am once again calling on Prime Minister Trudeau and the RCMP to dedicate the necessary resources to this region to protect everyone. I am extremely concerned that someone is going to get hurt or worse." 
 Chief Sack said he believes the fire was a further act of retaliation against his people for exercising their treaty rights to earn a moderate livelihood, as affirmed by the Supreme Court of Canada 21 years ago. The overnight blaze follows two violent raids earlier in the week by non-Indigenous commercial fishermen at lobster pounds over the self-regulated Indigenous fishery in the province, which launched in the area last month. 
 Around midnight Friday, police and fire departments were called to the commercial lobster pound, which earlier in the week, had been the scene of a mob of 300 non-Indigenous fishers dumping lobster, smashing windows, and threatening to burn the building down.
 Amid heavy rain, hundreds in pickup trucks and vehicles showed up to view the charred rubble of the lobster pound in West Pubnico Saturday morning. 
Briana Ross, a member of Cold Lake First Nations in Alberta, who lives near the destroyed lobster pound in West Pubnico, said she looked outside near midnight and saw the sky was red with fire and heard explosions. 
 "It's gone too far. Government needs to step in, somebody needs to step in. [Minister of Fisheries, Oceans and the Canadian Coast Guard] Bernadette Jordan says she's doing stuff but what has she done?" said the young mother as she viewed the damage, her two-year-old sitting in the back of her truck.
 "Did it really have to come to this? This used to be the safest community and now I'm afraid to go on the deck."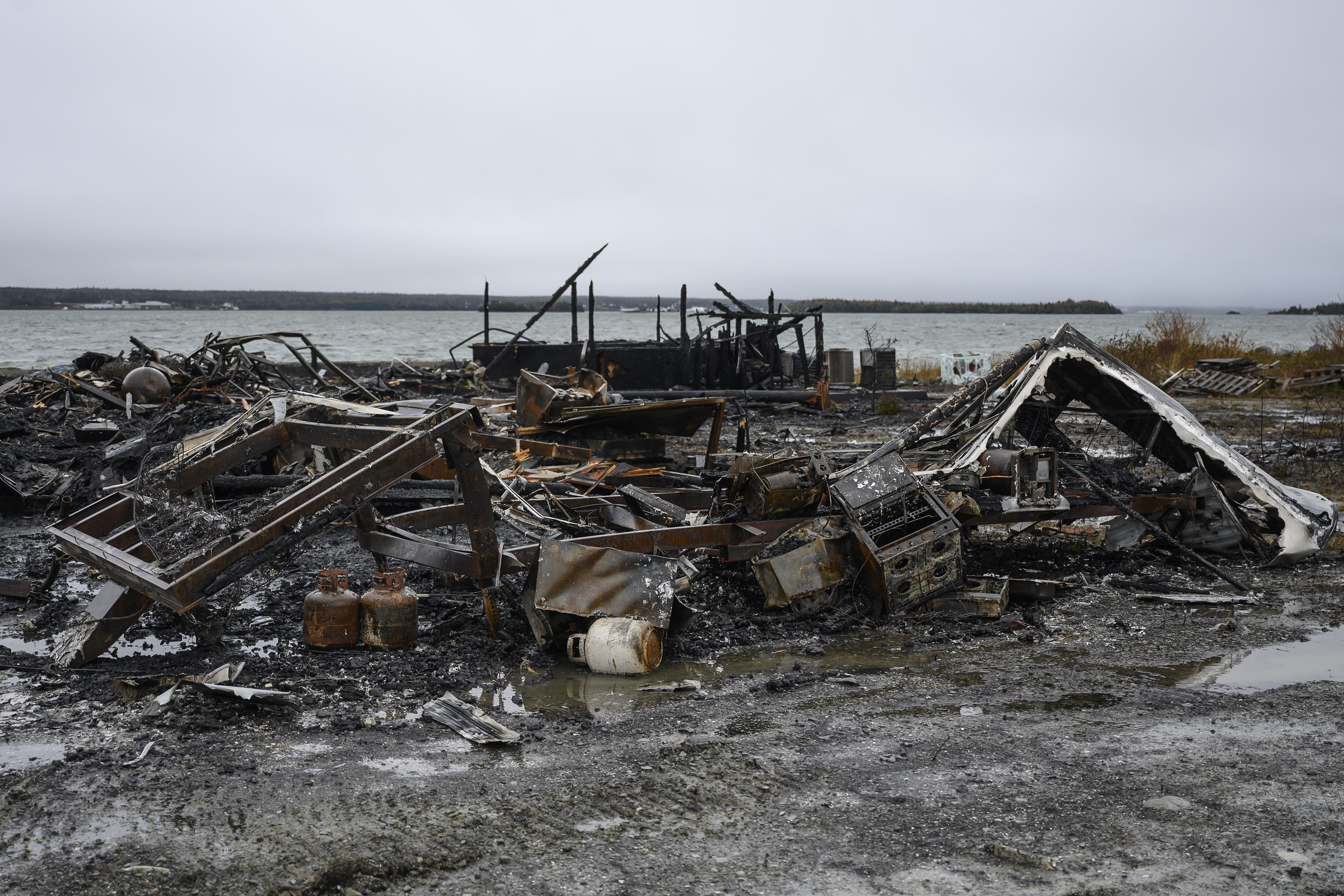 The RCMP and fire marshal are investigating the suspicious fire. Sgt. Andrew Joyce said no one was inside the lobster pound at the time and no employees were injured, however, one man is in hospital with life threatening injuries that police believe are related to the fire. 
 Sgt. Joyce said he couldn't answer questions about whether police were monitoring the lobster pound at the time the building was set ablaze. When asked why there isn't a greater police presence, he said RCMP can't be everywhere at once. The communities where the violent raids and vandalism have taken place are up to 75 km apart. "Is it responsible for RCMP to be at every location? I'll ask that for your reader," said Sgt. Joyce.  
 Both sides of the dispute are calling for the federal government to step in and regulate the Mi'kmaw fishery. Earlier in the week, Fisheries Minister Bernadette Jordan condemned the violence and said it was thwarting progress. She said she's working with First Nations and industry leadership to find a path forward. 
 Breaking story. More details to follow.