Tucker Carlson Called Justin Trudeau 'Mussolini' Over Quarantine Hotels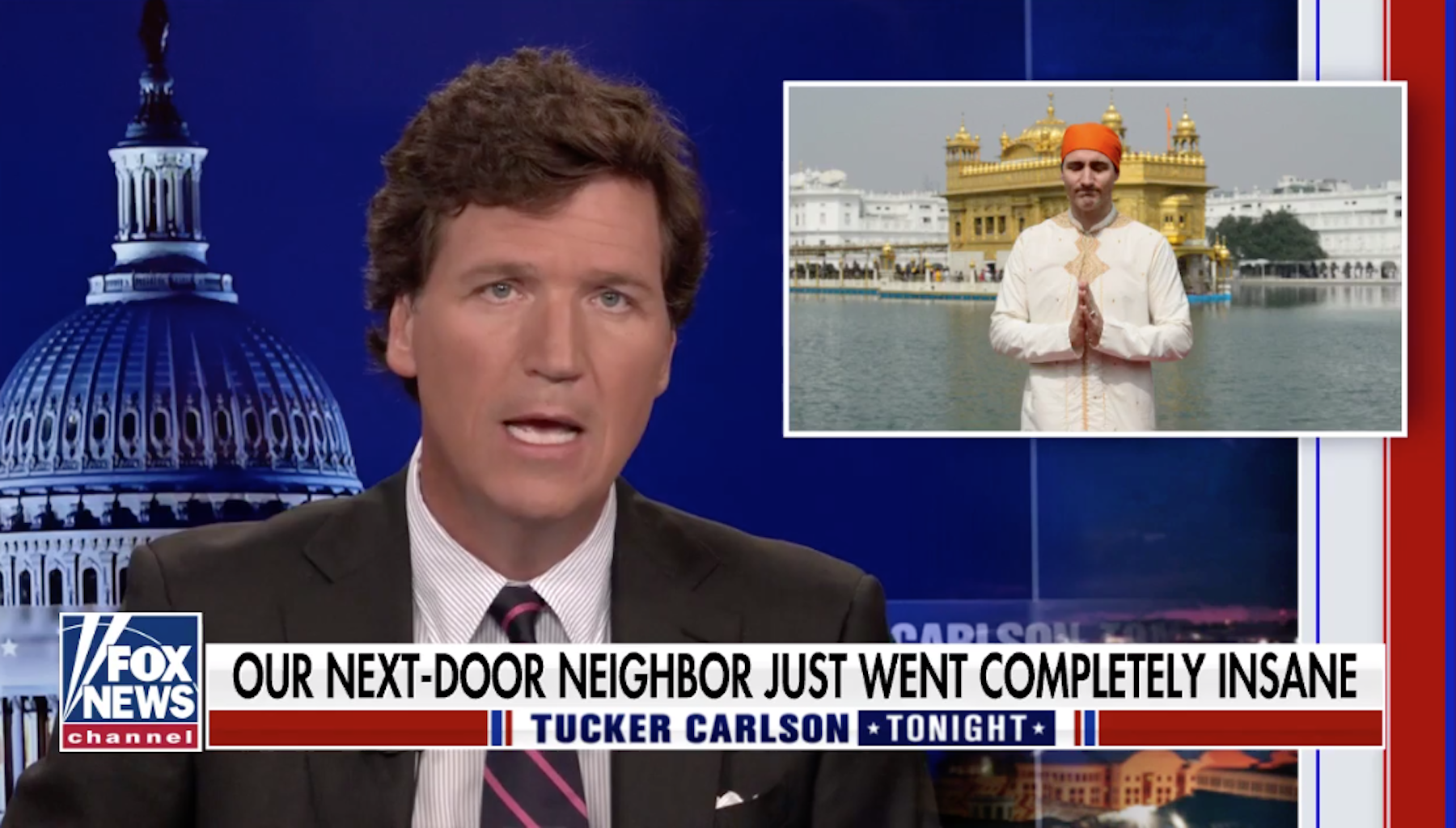 Credit to Author: Anya Zoledziowski| Date: Thu, 01 Apr 2021 18:46:47 GMT
FOX NEWS anchor Tucker Carlson is very worried that Canadian Prime Minister Justin Trudeau has turned out to be "Mussolini" instead of a "cheerful idiot" because the country uses mandatory quarantine hotels—and fears that Canada's "legitimately dangerous authoritarianism" could seep into the United States. 
In a broadcast aired on Wednesday, Carlson equates Canada's quarantine hotels—repurposed hotels where people returning from international travel must isolate to avoid spreading COVID-19—to "internment camps," joining the Canadian right-wing Twitter discourse six months after it first hit last fall. 
Before he embarks on his diatribe, Carlson explains exactly what Canada is—"Canada, the land mass directly to our north"—presumably, to avoid confusion for his loyal audience.
"What if your next door neighbour suddenly went dangerously insane and started holding people hostage in his house? Would you consider that threatening? Would you even notice it?" Carlson asks before launching into a 12-minute (!) attack on Canada. "It's funny, Trudeau always seemed like a cheerful idiot wearing weird costumes and yammering on about diversity. Who knew he was Mussolini?" 
Images of Trudeau wearing red and white kurtas during diplomatic trips to India accompany Carlson as he goes off. Canadians also thought Trudeau was being extra with his wokeness at the time, but referring to traditional Indian dress as a "weird costume" doesn't bode well.
In the rant, the furrow-browed Carlson breathlessly warns of Canada's "dramatic move toward legitimately dangerous authoritarianism" and repeatedly sounds the alarm on isolation hotels. As of January 29, all incoming travellers must quarantine at a designated hotel, for at least three days, paying about $3,000 out of pocket, while waiting for a COVID-19 test result.
Carlson even refers to the hotels as "punishment" for Canadians after the country failed to secure enough vaccines to inject people as quickly as other Western countries. 
Carlson also calls Canada "boring," which…fair enough.
"Suddenly, Canada is a flagrant violation of the most basic human rights; fail a COVID test and they will lock you up without trial," Carlson says. "We assume that interning people is what Russia does; boring people is what Canada does."
Carlson failed to note, though, that Canadians are eventually free to leave and did not mention that the hotel chains participating in Canada's quarantine program include Hilton, Marriott, Fairmont, and Holiday Inn—all offering catering, washrooms with running water, and internet. (Not quite the same as gulags.)
Carlson then warns people against disobeying the rules, and in a clear misrepresentation of facts, cites fines of up to $1 million and jail time of up to three years.
People who break quarantine could face up to $750,000 in fines or up to six months in jail under the Quarantine Act. Fines of $1 million and jail times as high as three years are only listed if a person breaks quarantine and causes death or serious harm to another. 
Those who fail to follow rules at hotels will likely face a $3,000 fine per infraction, according to Health Canada. 
Conspiratorial theories around quarantine hotels took off last fall after hotels were introduced for people with COVID-19 who didn't have a place to isolate for two weeks. At the time, vocal anti-masker, Ontario MPP Randy Hillier, promoted the idea that Trudeau's government set up "COVID-19 camps." The move forced public health officials to act fast and debunk disinformation. "Information is spread faster than the virus itself," said Canada's top doctor Theresa Tam. "Be media smart as well as science smart."
But for months, conservative politicians, including Michelle Rempel Garner, and far-right outlets such as YouTube channel Rebel News and website Post Millennial, have continued to equate the hotels to internment camps, a move considered deeply offensive because an inconvenient three-night stay at a hotel obviously has nothing in common with a concentration camp. 
Carlson, who inexplicably makes appeals to "science" while also referring to life-saving face masks as "obedience masks," relies on quotes from Canadian conservatives in his broadcast, and criticizes the CBC, Canada's public broadcaster, for debunking the myths. 
"There are shortages of food and water. You could be sexually assaulted," Carlson says.
One concerning sexual assault case did take place at a Montreal quarantine hotel. Health Canada said it's aware of the incident and is investigating. In the meantime, "government of Canada employees and security personnel are stationed at designated quarantine facilities to help provide a safe and secure environment," the official site says. 
More than 100,000 travellers have flown into Canada since the hotel requirements came into effect. Several countries, including Australia, the U.K., New Zealand, and Singapore, have also used quarantine hotels to protect people from spreading COVID-19.
Carlson ends his segment by asking whether the U.S. could see similar measures play out.
"You think it couldn't happen in America? It just happened in Canada," Carlson says.
COVID-19 was the third leading cause of deaths in the U.S. last year, with the country experiencing some of the worst COVID-19 outcomes in the world—far worse than those in Canada. Republican states that have been reluctant to implement public health measures like Texas and Florida have recorded some of the highest COVID-19 infection and death rates in the country. 
Follow Anya Zoledziowski on Twitter.