Trump's EPA Is a Disaster, So These Artists Made Their Own
Under the embattled leadership of Scott Pruitt, the Environmental Protection Agency has been the target of a bevy of impassioned protests. But one artist collective dreamed up an odd, yet radical response to the rollback of America's environmental regulations: the creation of a new governmental body in which policymakers are replaced with weeds.
Yes, weeds. Like diehard activists, these plants manage to thrive in less-than ideal conditions, finding ways to break through cracks in pavements, walls, and even rooftops. For artists Andrea Haenggi, Ellie Irons, Christopher Kennedy, and Catherine Grau, weeds—typically seen as undesirable and even irksome—can provide alternative models for thinking about survival and persistence in the Trump era.
In response to last year's proposed gutting of the Environmental Protection Agency, the artists founded their very own EPA: the Environmental Performance Agency. Through creative interventions, their work considers how the natural agencies of weeds can inspire community-organizing on behalf of all lifeforms.
"What does it mean to be like urban plants? To show up in places on the edges, in the cracks, to create new, novel systems?" Haenggi told VICE. "What if this ecosystem becomes our mentors, guides, and collaborators? And how can this then expand into social, environmental justice?"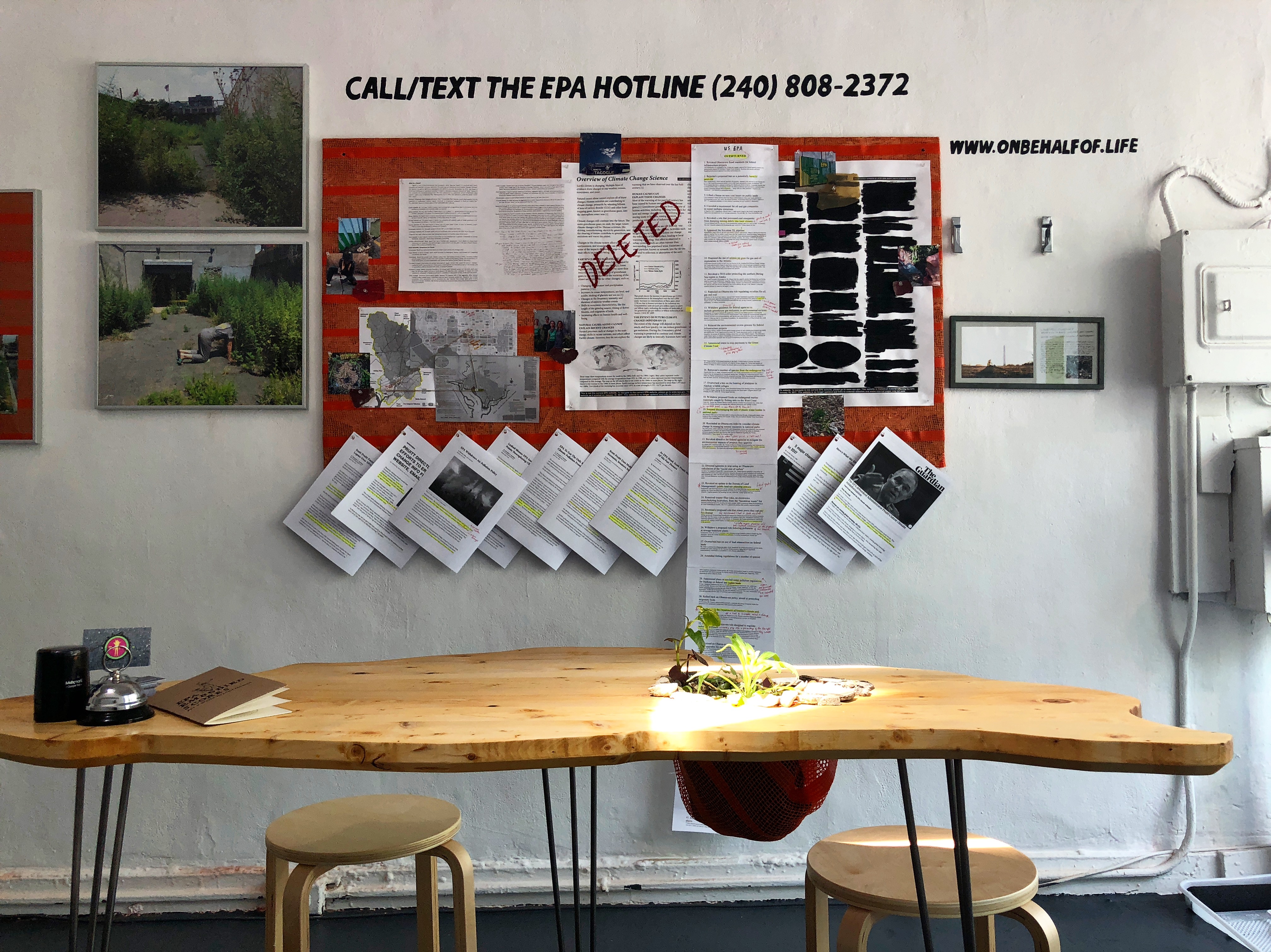 The EPA explores these questions with The Department of Weedy Affairs , an exhibition at Transformer gallery in Washington, DC (notably, it's just a mile away from the EPA headquarters). The space resembles a sort of heady bureau, where the artists sometimes appear as faux EPA agents in coveralls to engage with visitors or lead workshops. Since their opening in early May, the agents have organized a performance that considers the movement of plants as their language, and also conducted walking tours on the National Mall, where participants observed the behaviors of urban weeds—and their knack for survival.
The installation at Transformer generally urges viewers to interact with nonhuman species in unconventional ways. In the middle of the space sits a reception desk carved in the shape of the highly polluted Anacostia watershed, where visitors are invited to observe, listen to, and even blow gently on plants. Nearby are instructions to submit comments to the Environmental Protection Agency through a website the collective has set up—except on behalf of another life-form, to encourage the government to consider the effect of climate change on all living beings.
"Onbehalfof.life expands and deepens the commenting process by asking participants to envision the effect of environmental policy on multispecies life," Kennedy said. "We aim to foster public commentary that articulates a vision for environmental justice on behalf of all life, challenging the current administration's self-serving disregard of the environment."
---
---
Reminders of this administration's radical agenda are readily visible on a large bulletin board in the gallery. Tacked to it are news articles about issues ranging from significant policy matters, like rolling back power plant emission regulations, to Pruitt's ethical lapses, as well as printouts of the department's website that show its pages before and after climate change references were deleted last year.
On the opposite wall hangs a display that offers some levity to such a stark reality. Framed portraits feature the members of the Department of Weedy Affairs: dried and pressed plants, like buckhorn plantain and white snakeroot. Each is identified by an imagined government position such as "Environmental Engineer," "Toxin Investigator," and "Heat Reduction Analyst." Mugwort, which is deemed the EPA's "Rhizome Biologist," is given additional special status as a political candidate: the agents have created campaign signs that read, "Elect Mugwort for EPA Science Advisory Council." Visitors are welcome to take one with them to stick in any green space.
These personifications might seem absurd, but they represent the artists' very serious belief that wild urban plants are overlooked lifeforms in our daily environment that deserve attention— even at a moment when it seems like there's too much else going wrong to provide it. To the agents, their presence is a key reminder of many forms of nonhuman life people must coexist beside and consider as they organize to protect the environment.
"We're imagining a rebooted agency that goes beyond human-centric narratives of protection and care, incorporating the teachings and strategies of weedy vegetal life to advocate for ecological justice in a multispecies entangled world," Irons said. "By ignoring anthropocentric notions of boundaries and borders, these plants enrich life in dense urban ecosystems and trouble neat categories that place 'nature' in one box and 'human activity' in another. What could be more 'natural' than a plant growing where circumstances permit?"
By relabeling weeds, the collective also draws attention to how people tend to categorize them with language that marks them as undesirable—notably, the same language the current US government has sometimes deployed to describe human beings.
"We use terms like 'alien,' 'invasive,' 'invading,' 'dangerous' to demarcate weedy plants, and we often do the same to immigrant and marginalized communities," Kennedy said. "So the existence and idea of weeds brings up so many opportunities to discuss, confront, and think deeply about power, privilege, ownership, and difference."
The Department of Weedy Affairs is just one project the agents have developed as they continue to advocate for a more-than-human world. The undertaking will end with their most public gesture yet: On Friday, June 15—the day before the exhibition's close—the EPA will lead an open-to-all march to the federal agency's headquarters, where they will attempt to hand-deliver the collected remarks from Onbehalfof.life to government officials.
Once they arrive, they also hope to provide strength and encouragement to staff to "persevere against the takeover by Pruitt and Trump's anti-environmental agenda," Grau explained. "We will show up to share the teaching of the weeds: Be sensual, be scratchy, be persistent, show up!"
Sign up for our newsletter to get the best of VICE delivered to your inbox daily.
Follow Claire Voon on Twitter.
This article originally appeared on VICE US.