The Best End of School Year Movies on Netflix Canada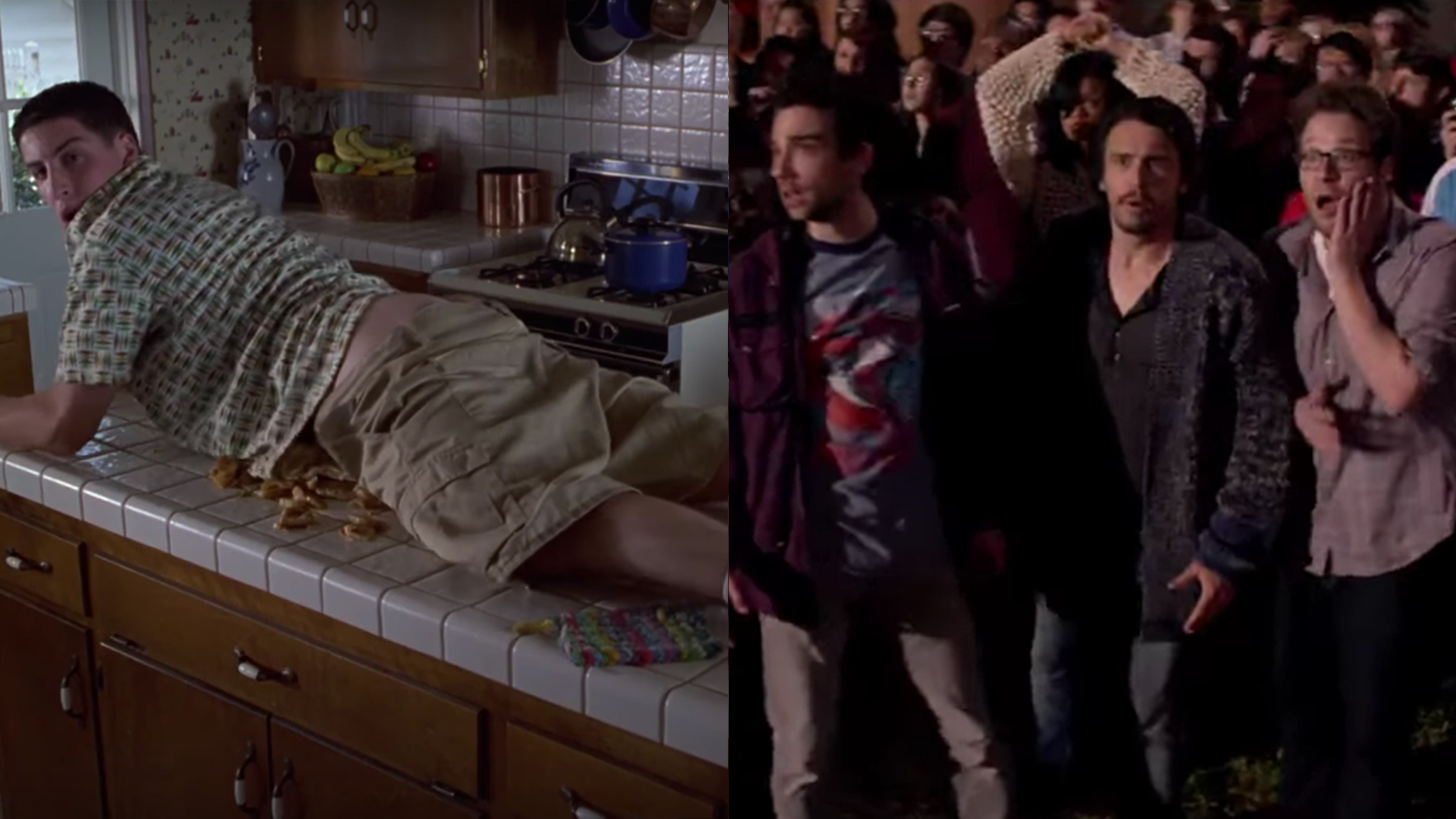 There's nothing like the feeling that comes after a long ass school year. You've been staring at that calendar, counting down the months until it finally arrives. You're ready to soak up the sunshine, sit around a campfire, crush beers and take a break from reality. But here you are reading about what's on Netflix. What you actually need is some damn inspiration. Those vibes that'll take you from the couch to some youthful fuckery, no matter your age. It's the time to let go of the shame of responsibility and indulge a little.
A little escapism never hurt though. I write about culture, so I'm a hermit by default, I get it. In the spirit of the end of school and the entrance of summer though, I gathered a few Netflix recommendations to help get you and me off the couch.
Dazed and Confused
We've experienced the same nirvana; that last day of high school when the government shackles fall off. This 1993 cult classic remains a classic because director Richard Linklater profoundly understood this righteous moment of youthdom. Viewers are taken back to Austin, Texas, 1976, with the students of Lee High School getting themselves prepped for their summer exits. Dumb shit happens: The school's quarterback Pink (Jason London), and his paddle holding crew, Don (Sasha Jenson) and Slater (Rory Cochrane) get heated about Pink's unwillingness to sign the coach's pledge against drugs and alcohol. And eighth-grader Mitch spends the entire movie trying to avoid getting hazed by Pink and pals. It's about the rites of stupidity, it's crude, loud, irresponsible, and completely re-watchable. And obviously it has a still banging soundtrack and Matthew McConaughey in his most iconic role.
Ferris Bueller's Day Off
I don't care if you were a straight-A student, a preppy hand raiser, or school flunk, you've skipped a class, maybe even two. You must know what that sense of summer-lite revolt feels like. John Hughes perfectly captured this in Ferris Bueller's Day Off, the most non-universal example of white boy privilege ever made. In the 1986 classic, we get a rich boy Ferris Bueller, who one day decides to skip class so he could ride Ferrari 250GT's, con his way into fine dining restaurants before sneaking onto parade floats. Even if the film hasn't lived up to any kind of relatability, there's still that end of school spirit of cutting lose, exploring and challenging authority that stays true.
American Pie
Probably the apex of that late 90s run of grossout teen movies, American Pie is definitely problematic by 2018 standards, but it still has its moments. The raunchy plot is simple as hell here; four desperate-to-be-devirginized high school seniors—Oz (Chris Klein), Jim (Jason Biggs), Finch (Eddie Kaye Thomas) and Kevin (Thomas Ian Nicholas) make a pact to lose their virginities before the end of the school year, and that's it. If you've got a sense of humour about sex, that awkward embarrassing type if sex, you'll still find a laugh. And I don't know if this is a good thing or not, but it has the most 90s soundtrack ever.
The Endless Summer
Everyone wants that day off to just travel the world and search for that something to fill their meaningless existence (god…I need a vacation). It all sounds beautiful in that not so adult sort of way, but it's what The Endless Summer is all about. Despite being a Bruce Brown documentary from 1966, it still remains one of the best surfing documentaries ever made. As the story goes, it follows two surfers that travel around the world trying to hit a beach where the weather's just right. There's this aw-shucks innocence about it that sticks with you, giving you memories of youthful freedom that few films manage to capture.
Superbad
The geek boy in the need of getting laid is like the first chapter in the bible of raunchy comedies. But then you look McLovin (Christopher Mintz-Plasse), who takes the geek boy and transforms him for a brand new century. He's confident, flamboyant, and the reason why Superbad packed a punch back in 2007. Greg Mottola directed this High School Musical kryptonite about two horny high school seniors (Jonah Hill and Michael Cera) in a quest to secure booze for a house party. On paper, it pretty much looks like an after-school, summer vacation rauncho fest. But it's also a genuine story about the way friendships change when adulthood enters.
Sixteen Candles
There's no denying that John Hughes's Sixteen Candles is a bit problematic, flowery innocence aside. Even still, the whole idea of Geek (Anthony Michael Hall) trying to score with his all-time crush, is the kind of honest adolescent shit a lot of boys zeroed in on in the early high school years leading up to the prom. Then there's Samantha played by Molly Ringwald who puts out the kind of tender and vulnerable performance that made her the poster-girl for the 80s teen drama. Some significant issues aside, it's still kinda hard to be mad a film that's honest in its current gen problems.
Harold and Kramer go to White Castle
It's a stoner comedy about a some twentysomething buds who go on a road trip to feed their munchie cravings. It also had no damn right to be progressive, outlandish, and hysterical. Two pals (John Cho and Kal Penn) learn about being young, dumb and getting what they want and when they want it in this adventure. Few things say summer like a hardcore burger craving.
Say Anything
Oh John Cusack, you had a pretty long reign as a leading rom-com dude, and now you smell like some straight-to-dvd shit. Anyway. You don't have to watch this movie to know the scene: sad dude stands outside of her window holding up a boombox playing some sad song. This is the movie that culture stapable came from. John plays a slacker who falls for a girl named Diane Court (Ione Skye) who was the class valedictorian. After their school stint ends, they find themselves in different directions but can't seem to move apart. His main aspiration is to woo over Diane in a way that almost John seen obsessive but still charming by today's standards. While it's a rom-com, it's also about the places you end up in and the things that don't always change.
Hurricane of Fun: The Making of Wet Hot
I'm only putting this here because I assume Netflix doesn't believe us to be American enough to have the actual movie ( Wet Hot American Summer) here in Canada. But this one goes into the nitty gritty (assuming you can give it a watch) of how this classic came to be. Just imagine L aw & Order: SVU's Christopher Meloni taking life lessons from a talking can of vegetables that can suck its own dick and you'll get the picture. This film was and will always be a send-up to the smutty Reagan-esque comedies that did the any-stupid-thing for a laugh approach that somehow got the laughs. If you want to know how this surrealist comedy about after school summer camps came to be, with its many talents (Janeane Garofalo, David Hyde Pierce, Paul Rudd, Bradley Cooper among others), then this should fit the bill.
This Is the End
Yes, there are a lot of scary things in This Is the End but the whole concept of a bunch of frat-inspired dudes playing themselves (James Franco, Danny McBride, Michael Cera, Jonah Hill, Jay Baruchel and Craig Robinson) trying to survive an demonic armageddon is just ridiculously homely. We all have those school friends who we've partied with despite them being absolutely terrible people. The same kind of people who would jizz on your favourite magazine and spend a good minute and 35 seconds defending it. I can't think of a better movie to make you rethink about all those high school/college friends you thought you could stand.
School of Rock
Jack Black may forever be known for doing two roles, some hard-partying manic slob, or some slob who parties hard and still manages to articulate something halfway intelligent. In Richard Linklater's teacher comedy, Jack plays a recently fired musician who scams his way to teaching a bunch of nerdy fifth graders. Despite a tight-assed principal (Joan Cusack) who stands to represent every tight ass authority figure we've had, Jack's metalhead presence comes as a reminder that the world is more than some straight laced journey of responsibility. Life can be fun be fun, even after the school bell makes its final ring.
Kicking and Screaming
I guess it's a right of passage to start over analyzing about your future straight out of college or something, but I wasn't one of those folks. Can't relate. But either way, Noah Baumbach's debut film takes on this common tradition. While a lot of the story centers on Grover (Josh Hamilton), it also finds a center around a larger group of graduates who share thoughts about the daunting world they're about to face. If anything, Kicking and Screaming reminds us that we're not the only one without our shit together.
Follow Noel Ransome on Twitter.
Sign up for the VICE Canada Newsletter to get the best of VICE Canada delivered to your inbox.