Joe Biden Just Crushed Bernie Sanders in South Carolina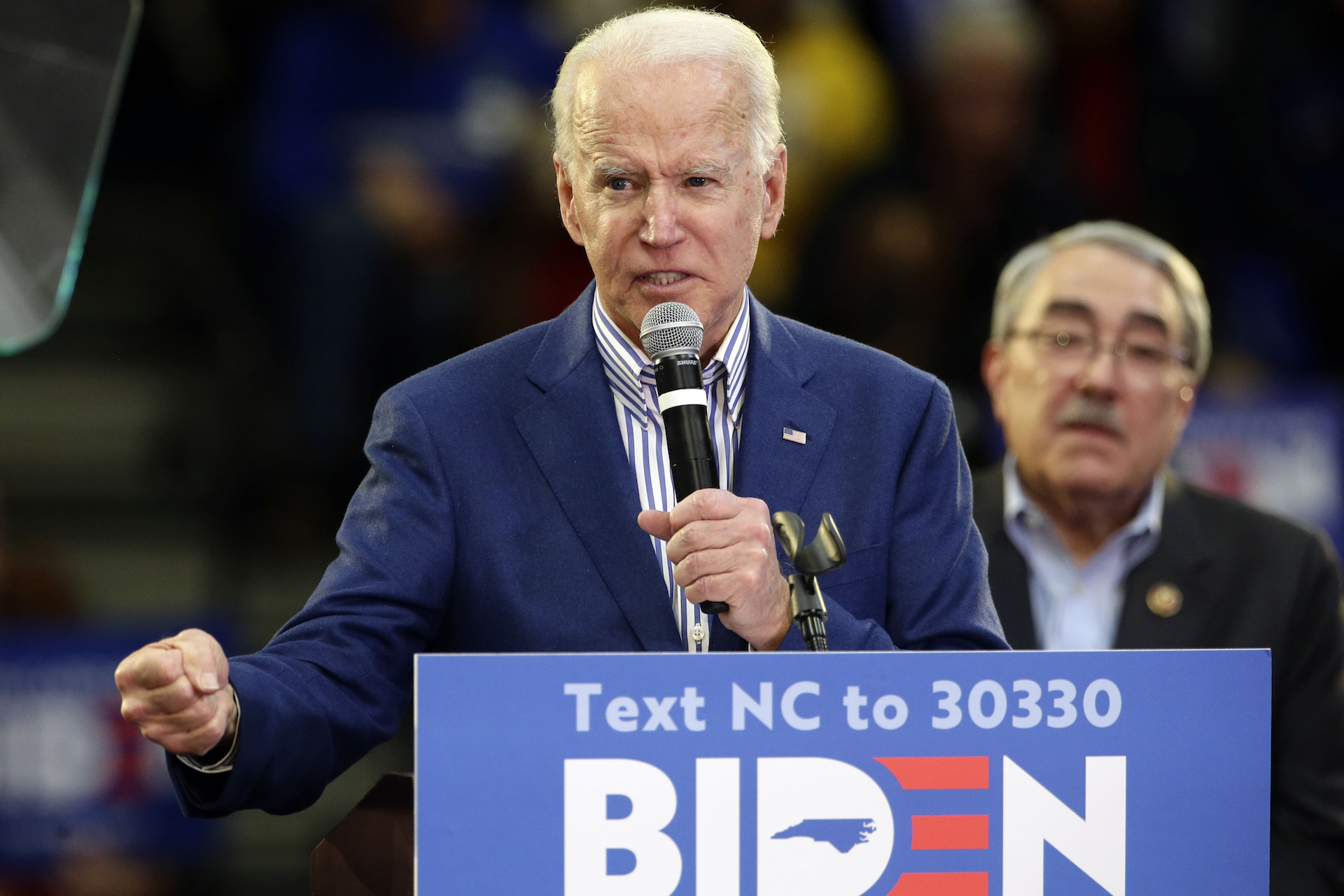 Credit to Author: Daniel Newhauser| Date: Mon, 02 Mar 2020 00:59:15 +0000
COLUMBIA, S.C. — It only took him 32 years, but former Vice President Joe Biden has finally won a presidential primary state.
In his last two presidential campaigns — in 1988 and 2008 — Biden did not carry a single state. This year, he's counting on momentum after a big win in South Carolina's primary Saturday to ensure his first ever win is not also his last.
Shortly after polls closed at 7 p.m., the Associated Press called the race for Biden. Though his margin of victory will tell the real story of the strength of his campaign, the fact that he was ahead enough to call the race almost immediately validated his boast during the last debate that, "I will win South Carolina."
"All of those who've been knocked down, counted out, left behind: This is your campaign," Biden said. "Just days ago the press and the pundits had declared this candidacy dead. Now, thanks to you, the heart of the Democratic Party, we just won, and we won big because of you. We are very much alive."
Biden's win also opens up questions about the campaign of his nearest competitor, Vermont Sen. Bernie Sanders. As of 8:30 p.m., the CNN projection had Biden at 51% of the vote, and Sanders at just over 17%, just above the 15% threshold to win delegates. That gives Biden a significant opportunity to narrow the delegate gap between the two candidates.
READ: Here's Tom Steyer twerking with Juvenile because 2020 hasn't been weird enough
Billionaire Tom Steyer, who focused much of the $260 million he spent running for president on South Carolina, was a distant third, and he dropped out of the race. Massachusetts Sen. Elizabeth Warren, former South Bend, Indiana Mayor Pete Buttigieg, and Minnesota Sen. Amy Klobuchar barely made a ripple.
"You cannot win them all," Sanders told a crowd at a rally in Minnesota. "And tonight we did not win in South Carolina. I want to congratulate Joe Biden on his victory tonight, and now we move on to Super Tuesday."
Biden's win means that despite a lackluster showing in the February contests, he's still in this race.
Biden's campaign was adamant his poor showings in Iowa and New Hampshire and his distant second-place finish to Sanders in Nevada would be old news when he silenced critics with a major win with South Carolina's African American voters.
Those voters made up more than half of the Democratic primary electorate in the Palmetto State. Interviewed at events throughout the state and at polling places on Saturday, Biden supporters said they're sticking with the experienced hand and noted his relationship with former President Barack Obama as a factor influencing their votes.
"He seemed to be more experienced than any of the other candidates," said Joe Griffin, 81, a retiree who lives in Columbia, after casting his ballot for Biden.
Biden had said throughout the race that no campaign can win without the support of black voters. Thought Biden's victory among older African American voters was expected, exit polls showed him beating Sanders among younger black voters too, a blow to Sanders' claim that he has the only diverse coalition.
Biden delivered his victory, but now he faces a big and immediate test.
Voters in 14 states will head to the polls in just three days on Super Tuesday, and Biden and his team will have to work overtime to convince them that Biden should still be their No. 1 choice.
That is an already daunting task, with Sanders polling ahead of the pack in the delegate-rich states of California and Texas. It will be even harder to do with former New York City Mayor Michael Bloomberg on the ballot in the 14 Super Tuesday states for the first time and spending heavily to boost his own candidacy as the moderate alternative to Sanders.
As if awaiting Bloomberg, who is mounting a big-money challenge in Super Tuesday states, Biden took a swipe at the onetime Republican. "If the Democrats want a nominee who's a Democrat, a lifelong Democrat, an Obama-Biden Democrat, well, join us," he said.
Cover: Democratic presidential candidate former Vice President Joe Biden speaks at a campaign event at Saint Augustine's University in Raleigh, N.C., Saturday, Feb. 29, 2020. (AP Photo/Gerry Broome)
This article originally appeared on VICE US.