32 teams, 32 looming free agent decisions: Which players will return to their team?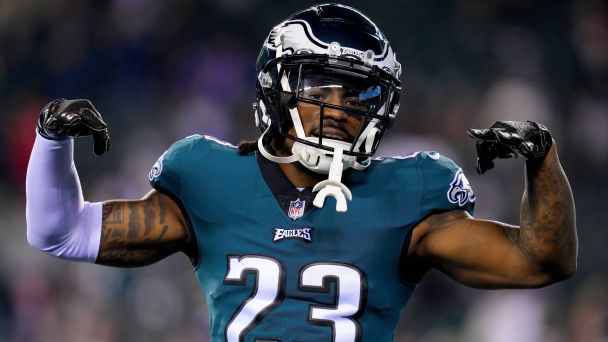 Domonique Foxworth and Chris Canty weigh in on Lamar Jackson's future and whether the Falcons will be the best fit for Jackson next season. (1:46)
There's one game left in the 2022 NFL season, as the Kansas City Chiefs and Philadelphia Eagles will square off in Super Bowl LVII. That means the offseason is quickly approaching. And the first big milestone in preparation for the 2023 season is free agency.
We asked our NFL Nation writers to pick the one player from the team they cover whose contract status will shape that franchise's offseason the most. As you might have guessed, there are quite a few quarterbacks on this list, including the GOAT, a couple of stars from the AFC North looking to break the bank and an unexpected standout in the Pacific Northwest who'd like to get paid. But QBs aren't the only players on their list, as the NFL's leading rusher, several linemen and a few pass-rushers also made the cut.
So, which players will make and break the 2023 NFL offseason?
Jump to:
ARI | ATL | BAL | BUF | CAR | CHI | CIN
CLE | DAL | DEN | DET | GB | HOU | IND
JAX | KC | LAC | LAR | LV | MIA | MIN
NE | NO | NYG | NYJ | PHI | PIT | SF
SEA | TB | TEN | WSH
Safety Jordan Poyer was also a candidate, but we'll go with Edmunds here because of his age (24) and the fact that he is coming off his best season. Edmunds is vital to the Bills' defense alongside All-Pro linebacker Matt Milano and plays a key role against the run and the pass. Replacing him would be no easy task for a cap-strapped team, and the Bills appear more likely to re-sign Edmunds than Poyer, with general manager Brandon Beane saying of Edmunds, "Draft, develop, re-sign. Like where that guy has gone is, he's just been amazing to watch his growth … very proud of who he is." — Alaina Getzenberg
Mostert got through the season relatively healthy and was the Dolphins' most effective running back all season. Although tight end Mike Gesicki will likely command more money through free agency than Mostert, Miami has no running backs signed for 2023 and limited capital to find one in the draft. From a leadership and production standpoint, it makes sense to bring Mostert back on at least another one-year deal. The Dolphins also will need to decide whether to extend defensive tackle Christian Wilkins this season or next, but the urgency is not quite as high with another year remaining on his rookie deal. — Marcel Louis-Jacques
Meyers joined the team as an undrafted free agent in 2019, and he has emerged as a go-to target. Developing talent and retaining it is a core principle of successful teams, and that's why the Patriots are expected to be motivated to sign Meyers to an extension. It likely won't come cheaply, but he is the type of player and person Bill Belichick will want to keep to help build around QB Mac Jones. — Mike Reiss
QB Mike White
White's future with the Jets is complicated and cloudy. They view him as a high-end backup/low-end starter, but there might not be room if they acquire a veteran starter and retain Zach Wilson as a backup — and the Jets have emphasized their desire to keep Wilson. White, who made $2.5 million in 2022, probably can command anywhere from $4 million to $8 million. Coach Robert Saleh likes to go three deep at quarterback, but this doesn't seem like a fit unless the Jets fail to secure a veteran or Wilson gets moved. — Rich Cimini
Ravens officials remain optimistic that after the season they can reach a new deal with Jackson, but it probably won't happen unless the star quarterback budges off his desire for a fully guaranteed contract. The most likely outcome is the Ravens placing the franchise tag on Jackson by March 7 to keep him from becoming an unrestricted free agent. Jackson would become only the third QB over the past decade to get the tag. Then the questions become: When does Jackson report to the team under the tag? And will the Ravens listen to trade offers for Jackson? — Jamison Hensley
Stephen A. Smith says Saquon Barkley deserves to get paid more after his offensive production for the Giants this season.
The free safety all but acknowledged this will be the end for him with the Bengals. Bates and the team spent two years in contract negotiations before he was given the franchise tag, a designation that Bates begrudgingly played on in 2022. With quarterback Joe Burrow's contract extension looming, it's nearly impossible to see the Bengals allocating cap space to sign Bates. The Bengals already have planned for a contingency scenario. Dax Hill, the team's first-round pick last April, got reps at free safety during the preseason while Bates had not signed the franchise tag. Bates is just 25 years old and could be in the mix for the high-priced contract he has pursued for years. — Ben Baby
The Browns entered the 2022 season expecting Nick Harris to be their starting center. After Harris suffered a season-ending knee injury in the preseason, however, Pocic took over and was outstanding. Harris remains under contract, but the Browns will likely make a strong push to re-sign Pocic to again anchor the middle of their elite offensive line. — Jake Trotter
The Steelers have a handful of additional free agents who will be key to retain, including defensive tackle Larry Ogunjobi and safety Terrell Edmunds, but Sutton's versatility and Pittsburgh's lack of depth at corner make him the most crucial one. Sutton's 15 passes defended was tied for sixth in the league, and names ahead of him on that list include luminaries such as Jalen Ramsey, Sauce Gardner and Tariq Woolen. Sutton's versatility, fit and value to the defense will mean an upgrade of the two-year, $9 million contract he signed in March 2021. — Brooke Pryor
Okoronkwo had only eight starts, but he finished with a career-high five sacks and had an 18.7% pass rush win rate, which was the 17th highest in the NFL. He has developed into one of the Texans' best pass-rushers. Okoronkwo's base salary in 2022 was $2.125 million, and he likely is looking to get a deal closer to $7 million per year. — DJ Bien-Aime
• Ranks: Kiper » | McShay » | Positions »
• Mocks: Kiper » | McShay » | Reid »
• Meet the top prospects in the class »
• QB Hot Board » | First-round grades »
• Full ranks » | Draft order » | More »
Ngakoue made his expected impact in his first season in Indy. He finished with 29 pressures and a team-high 9.5 sacks, creating a formidable one-two punch with interior pass-rusher DeForest Buckner. The Colts have a lot of needs, but if they can create some additional cap space, there likely will be a desire on both sides to extend Ngakoue's contract and firm up a defense that showed real promise in 2022. — Stephen Holder
TE Evan Engram
Engram set career highs in catches (73) and receiving yards (766) in his first season with the Jaguars and established franchise single-season records for his position. Engram said he wants to be back, and general manager Trent Baalke and coach Doug Pederson have said they also want him to return, but that likely means starting negotiations at $12 million annually. The Jaguars can make some cap room with releases (notably CB Shaquill Griffin) and restructures, and it's likely they'll get a deal done. — Michael DiRocco
RG Nate Davis
The Titans are faced with potentially having to replace three of five starters on the offensive line. The possible retirement of center Ben Jones would make Davis the Titans' longest-tenured offensive lineman if they re-sign him. But Davis will likely command a lot of attention on the free agent market, and the Titans have limited cap space to retain him. — Turron Davenport
The Broncos have plenty of free agency decisions in addition to Jones — including G Dalton Risner, S Kareem Jackson, T Billy Turner and RB Latavius Murray, just to name a few — but the 26-year-old defensive end is likely the most attractive to others. Jones finished the season on injured reserve with a hip injury, but that is not expected to impact his value. He tied his career high in sacks in his 13 games this past season at 6.5. Earlier in the campaign, general manager George Paton said re-signing Jones was a top priority. — Jeff Legwold
The Chiefs weren't willing to give Brown the contract he wanted last year, so he played this season under his one-year, franchise player contract. Brown had a solid season, but if the Chiefs didn't satisfy his demands last year, would they do so this time around? That seems unlikely, and another year with the franchise tag could be looming. — Adam Teicher
• First look at Chiefs-Eagles matchup »
• Making sense of NFC, AFC title games »
• Offseason guide for eliminated teams »
Full playoff bracket and schedule »
RB Josh Jacobs
The All-Pro became just the second Raiders player to lead the NFL in rushing, joining Marcus Allen. Even though Las Vegas chose to not pick up his fifth-year option last offseason, coach Josh McDaniels said he would "love" to have Jacobs return. Jacobs, who rushed for 1,653 yards and had a league-leading 2,053 yards from scrimmage, said that he wants to return but that it has "to make sense." As in dollars and cents. The Raiders could simply slap a franchise tag on Jacobs — early estimates have it at about $10.1 million — but both parties probably want more security for the future. — Paul Gutierrez
The Chargers are without a big-name free agent but have a few players who have grown into starting roles and are due a contract. It would be understandable if the Bolts let Pipkins, a third-round draft pick in 2019, walk in free agency; his pass block win rate ranked 42nd in the NFL. It's plausible that Jamaree Salyer could flip into the right tackle spot, but depth could be a concern. Other role-player free agents who could easily fill this space include linebackers Drue Tranquill and Kyle Van Noy. — Lindsey Thiry
RB Tony Pollard
It's slightly more complicated because of the left ankle surgery Pollard had after getting hurt in the divisional round playoff loss at San Francisco, but he is expected to make a full comeback, and the Cowboys want to keep him. But how? They could look to give him the franchise tag if they are unable to sign him on a multiyear deal, but a decision also will have to be made on Ezekiel Elliott. Elliott is scheduled to make $10.9 million in 2023. If Pollard is tagged, that would be more than $20 million committed to the cap on two running backs, which is not the most fiscally sound approach. But the Cowboys know they can't afford to lose Pollard. — Todd Archer
We're going with Barkley here only because general manager Joe Schoen made it abundantly clear the team plans to bring back quarterback Daniel Jones one way or another. Barkley's future in New York appears more uncertain. Schoen called him a "good" player and mentioned that there were other factors, including fitting everyone under the salary cap. If the Giants get a long-term deal done with Jones, using the franchise tag on Barkley at $10 million seems like an enticing option for the team. — Jordan Raanan
Dan Orlovsky breaks down why he's excited to see what Frank Reich will bring to the table as the Panthers' head coach.
The team has a number of pending free agents of note, including running back Miles Sanders, defensive tackle Javon Hargrave, cornerback James Bradberry and guard Isaac Seumalo. Prioritizing which players to re-sign is not an easy task, especially when you consider that future funds need to be allocated to a potential mega-contract for quarterback Jalen Hurts. Gardner-Johnson has proved he can play both slot corner and safety at a high level since being acquired from the Saints in August. It would make sense for the Eagles to try to hold on to him to keep the back end strong. — Tim McManus
DT Daron Payne
They'll definitely try to re-sign Payne, but it could get a little complicated. With ownership questions, it's uncertain whether Washington will give him the contract he'd want. Also, the Commanders have to be concerned about other future contracts — from defensive end Montez Sweat to safety Kamren Curl and even defensive end Chase Young in two years — after paying defensive tackle Jonathan Allen in 2021. The ideal solution for Washington is signing Payne to a long-term deal. But other questions could lead to a franchise tag, giving Payne one year at around $19 million. — John Keim
Bears general manager Ryan Poles said he wants to keep Montgomery in the fold, and Poles could have a chance to offer him a new contract without breaking the bank, given the number of running backs set to hit free agency. In four seasons with Chicago, Montgomery has totaled 3,609 rushing yards and 26 touchdowns along with 1,240 receiving yards and another four scores. The Bears want a multidimensional backfield, and that's what they have with Montgomery — who is terrific in pass protection and evolved into a reliable pass-catching threat in 2022 — and Khalil Herbert. Keeping that core together is a priority. — Courtney Cronin
Get exclusive access to more than 3,000 premium articles a year from top writers.
• Kiper: Debut 2023 NFL mock draft »
• Early 2024 MLB Hall of Fame preview »
• Scouting men's All American recruits »
More ESPN+ content »
If you ask guys inside the Lions' locker room, Williams is the ultimate teammate — even giving out custom robes — who exhibited a nonstop, infectious energy throughout the season. On the field, he is coming off a career-best campaign with a league-leading 17 rushing touchdowns while becoming Detroit's first 1,000-yard rusher since Reggie Bush in 2013. But Williams enters this offseason as an unrestricted free agent at 27 years old, and it seems natural for the Lions' front office to re-sign him, not only for production but also as a cultural fit for what the team is trying to build. — Eric Woodyard
WR Allen Lazard
Lazard is in line for his first significant payday since making it to the NFL as an undrafted free agent in 2018. He didn't earn $1 million in a season until this past year, when he played for the restricted free agent tender of $3.86 million. With the emergence of Christian Watson and Romeo Doubs, the Packers won't pay Lazard WR1 money. But if he gets that or even good WR2 money somewhere else, the Packers will need to replace not only him but also fellow pass-catchers Randall Cobb and Robert Tonyan, who also will be free agents. — Rob Demovsky
General manager Kwesi Adofo-Mensah hedged his bets last offseason, committing to Bradbury as the 2022 starter but declining his fifth-year option for 2023. Before a back injury cost him the final five games of the regular season, Bradbury was having a decent year, though not a breakout campaign. He ranked No. 12 in ESPN's run block win rate and No. 19 in pass block win rate among centers. The Vikings don't have an obvious replacement on the roster and must decide whether to pay Bradbury a market rate or start over at the position. — Kevin Seifert
RT Kaleb McGary
The Falcons declined McGary's fifth-year option in May, and he proceeded to have the best season of his career, turning into a critical player on a much-improved offensive line. With cap space available for the first time in the tenure of general manager Terry Fontenot and coach Arthur Smith in Atlanta, bringing back McGary would be a sensible option, as long as he doesn't end up asking for too much. McGary fits what Atlanta is looking for. — Michael Rothstein
QB Sam Darnold
With the Panthers hiring Frank Reich as their new coach Thursday, quarterback is now the biggest issue. Darnold isn't a long-term fix despite his 4-2 finish, but do the Panthers need to sign him as a bridge quarterback in case they use the ninth pick of the draft on a signal-caller? Or should they go after other possibilities such as Derek Carr or Tom Brady? — David Newton
QB Andy Dalton
The Saints will have decisions to make with tight end Juwan Johnson and linebacker Kaden Elliss, but the quarterback situation is by far the most important this year. The Saints likely will explore all options before re-signing Dalton, and whether they try to acquire another quarterback will determine whether they offer him a contract as a starter or a backup. This also will affect Jameis Winston, as it's unlikely they will keep him at his current salary if they plan to have Dalton or another quarterback start in front of him again in 2023. — Katherine Terrell
Now that quarterback Tom Brady has announced his retirement, the Bucs have to address other priorities. Defensive backs Murphy-Bunting, Jamel Dean and Mike Edwards are all set to become unrestricted free agents. Murphy-Bunting is particularly interesting because he lost his No. 2 cornerback spot to Dean this season, but he was lights out to finish the year. He broke up seven passes and had two interceptions in 2022. Tampa Bay will need to examine the defensive back group and see what it can do with the salary cap in mind. — Jenna Laine
DL Zach Allen
After he developed the past couple of offseasons under the tutelage of J.J. Watt, Allen became a key component of the Cardinals' pass rush this season, before a hand injury ended his campaign prematurely. With Watt retiring, Allen becomes the focal point of the Cardinals' interior pass rush, making him a vital player to re-sign this offseason. Allen is coming off a career season in sacks with 5.5, and he was on pace to log a career high in snaps before his injury. — Josh Weinfuss
&#8226 The story behind Reddick's meteoric rise
&#8226 Vikings' D could have 9 new starters
&#8226 Reich's top duty: Fill franchise QB void
&#8226 Doug Williams' Super Bowl legacy lives on
&#8226 Examining controversial playoff calls
Because the Rams have taken care of their star players well before their contracts have expired, they don't have many top names on their free agent list. Although there are several defensive starters who might leave in free agency, Mayfield's situation is the most interesting on that list. Mayfield, who was claimed by the Rams for the final five games to start in place of injured Matthew Stafford, said after the season that he knows he is capable of being a starting quarterback. If he wants to have the chance to start somewhere, it won't be in Los Angeles. If Mayfield signs elsewhere, the Rams could be in line for a 2024 compensatory pick. — Sarah Barshop
McGlinchey had some bumps along the way, but he played some of his best ball down the stretch, leaving him well-positioned to be one of the top offensive tackles on the market. As with guard Laken Tomlinson last year, the Niners would prefer to retain McGlinchey but will be able to go only so far financially to do so. Because tackles are so hard to find, don't be surprised if McGlinchey's market is robust. If that's the case, the Niners might have to turn to backup Colton McKivitz to become the starter and/or spend some draft capital looking for a replacement. — Nick Wagoner
QB Geno Smith
Smith has positioned himself for a big payday after making the Pro Bowl and leading the Seahawks to a playoff berth during his unexpected breakout season. The two sides want to keep it going in Seattle, but comments from coach Pete Carroll have given the impression that Seattle might not use the franchise tag on Smith in the absence of a multiyear deal. Among the variables at play is that the Seahawks own the fifth overall pick thanks to the Russell Wilson trade as well as their own first-rounder at No. 20 overall. — Brady Henderson