Ten Hag needs results at Man United quickly to avoid familiar fate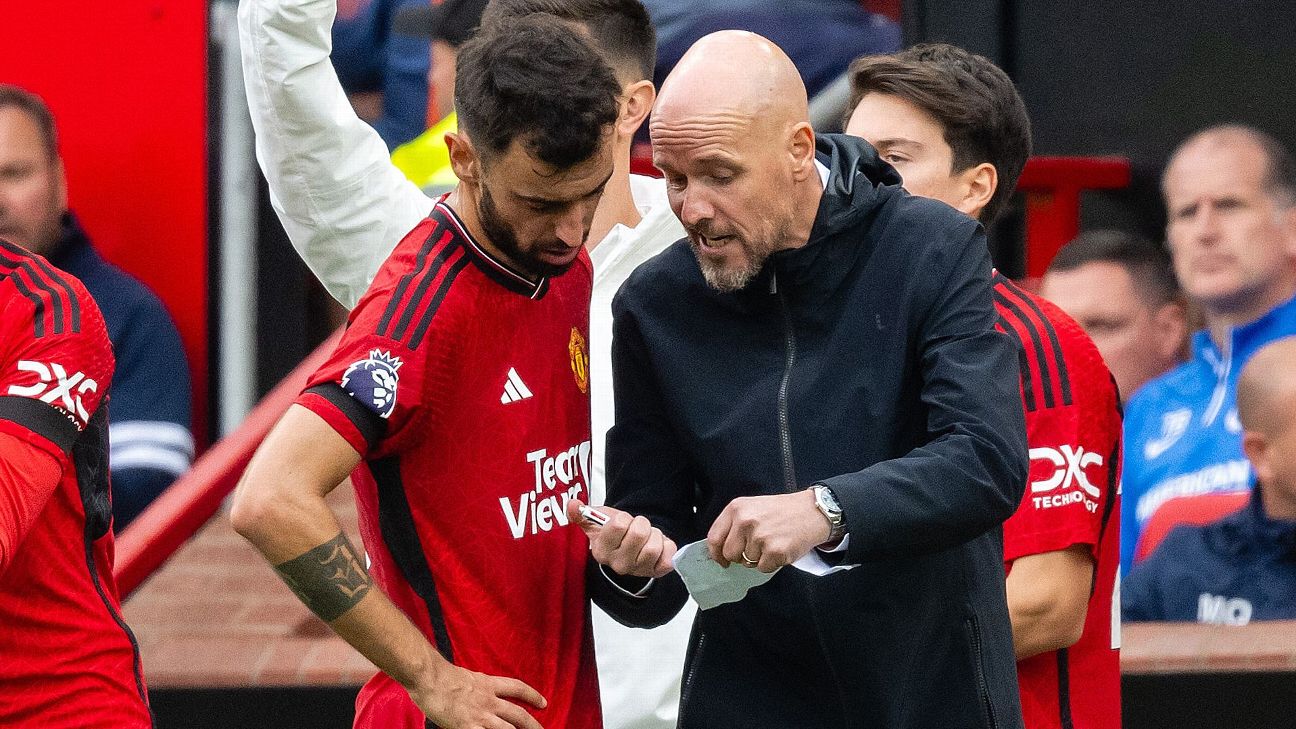 Credit to Author: Mark Ogden| Date: Mon, 18 Sep 2023 08:11:08 EST
Craig Burley blasts the 'nonsense' of Manchester United manager Erik ten Hag after their 3-1 loss at home to Brighton. (2:08)
Erik ten Hag has shown himself to be the tough-guy manager that Manchester United needed when he was hired to take charge at the end of their dismal 2022-23 season. But the former Ajax coach is in danger of seeing the football side of his job unravel at Old Trafford.
The 53-year-old said Friday he inherited a "no-good culture" when he arrived at the club 16 months ago and he has been bold and decisive in attempting to deal with the malaise within the squad. From forcing the players to run 8 miles at the training ground as punishment for running 8 miles fewer than Brentford in a 4-0 defeat in August 2022 to publicly calling out Cristiano Ronaldo, Marcus Rashford and Jadon Sancho for failing to meet his standards on and off the pitch, Ten Hag has exerted his authority. And despite the disciplinary issues he encountered within a squad that required a major overhaul — as ESPN reported last month, he has moved on almost 20 players since taking charge — Ten Hag guided United to a third-place finish and reached two major finals last season, winning one in the Carabao Cup.
– Stream on ESPN+: LaLiga, Bundesliga, more (U.S.)
But all is not well at Old Trafford. The Premier League's biggest and most successful club (historically, at least) is now on the brink of another crisis. With back-to-back away games at Bayern Munich in the Champions League and Burnley in the Premier League this week, things could get worse before they start to get better. United's history since Sir Alex Ferguson retired in 2013 shows a worrying trend of managers hitting turbulence after an impressive first season and then failing to turn the tide back in their favour. Ten Hag is not at that point yet, but the storm clouds are gathering and results — the measure by which all managers are judged — are deteriorating.
Since ending Man United's six-year trophy drought by winning the Carabao Cup final against Newcastle United on Feb. 26, Ten Hag's team has suffered an alarming nosedive in terms of form and results. Up to and including that 2-0 victory against Eddie Howe's side at Wembley, Ten Hag's United had won 72.5% of their games in all competitions. Since that day, United's win percentage has dropped to 51.9%, and the prolonged loss of form has now seen them make the club's worst start to a season since 1989-90 by losing three of their first five games of this campaign. Away from home, United have claimed just one point from a possible 27 in games against top-10 opponents and have managed only three wins from their past 10 away from Old Trafford in all competitions.
Tactically, Ten Hag has also struggled to show himself to be a positive game-changer. During the team's 7-0 defeat at Liverpool in March he deployed centre-forward Wout Weghorst as a No. 10, Rashford as a lone striker and placed Bruno Fernandes on the left, failing to target the defensive weaknesses of Liverpool right-back Trent Alexander-Arnold. He was also outsmarted by Pep Guardiola during the FA Cup final defeat against Manchester City, while Saturday's 3-1 defeat against Brighton & Hove Albion at Old Trafford came after Seagulls coach Roberto De Zerbi took less than 20 minutes to negate Ten Hag's tactical ploy of playing with a diamond formation in midfield.
Ten Hag has plenty of credit in the bank from last season. The United hierarchy hired him with the full expectation that it would take time to make the team genuinely competitive again, and Ten Hag arguably over-delivered in his first campaign in charge. But so did Jose Mourinho when he won the Carabao Cup and Europa League in his debut season. The former Chelsea, Inter Milan and Real Madrid coach was unable to kick on before losing his job four months into his third term following a breakdown of his relationship with his Old Trafford bosses and the club's players.
A failure to get the signings he wanted, coupled with United's reluctance and/or inability to part with players he didn't want — Anthony Martial being the most notable example — fostered a sense of grievance with Mourinho that accelerated his downfall. Ten Hag has fared better than Mourinho when it comes to getting his targets, but that success in getting who he wants might yet work against him if results continue to flatline.
Will midfielder Mason Mount and goalkeeper André Onana really make United better? Is centre-forward Rasmus Højlund really a better long-term bet than Harry Kane? Was Ten Hag right to push for midfielder Sofyan Amrabat in the final days of the transfer window? The answers to those questions will come in time, but it is fair to say that Ten Hag misjudged Weghorst's ability to make a difference following his loan arrival from Burnley in January, and Antony, who is on a leave of absence, has done little to look like anything but an expensive mistake since Ten Hag made his £85 million signing a priority early last season.
While results will always dictate a manager's fate, their tactical acumen and ability to identify a player are important factors that can reinforce support from the boardroom and dressing room. We are still waiting for Ten Hag's "Eureka!" moment, however, in terms of a transformative signing or match-winning tactical switch.
By instilling discipline and imposing exacting standards on his players, Ten Hag is delivering on one key element of his job description, but that is not enough for a club of United's stature. What matters most are results and style, and Ten Hag is falling short in both of those areas.
Injuries are not helping, and the constant uncertainty surrounding the future of the club's owners, the Glazer family, is another unwanted distraction. But what Ten Hag needs more than anything right now is a convincing performance and victory. Being a tough guy will not be enough to alleviate the pressure.